Walking the Forage Trail: a field workshop on flowers, bees and beekeeping.
About this Event
Overview:
Join instructor Brian Campbell on August 22nd from 1230 PM to 430 PM for a seminar and field demonstration on the relationship between flowers and bees throughout the season, and the insights and beekeeping practices that can be derived from an understanding of this relationship. Much of the class will take place as a seminar, but time will also be spent observing flowers and bees in the field. There MAY also be some time spent in bee hives depending on conditions outside and in hives. This workshop is intended for current beekeepers looking to expand their knowledge of beekeeping, and is not intended for absolute beginners to beekeeping. Please note this workshops requires you to bring your own protective clothing (suit/jacket/veil and beekeeping gloves). It is required that your clothing be freshly laundered to prevent the spread of disease into the educational apiary. It will also be required that you sign a waiver of liability.
August is a month that marks a general decline in forage availability and corresponding changes in bee behaviour in anticipation of Winter. This workshop will help explain these more pressing changes, but also go on to explain the full yearly cycle related to forage availability and corresponding changes in honeybee needs and behaviours.
Subjects Covered: This workshop is intended to explore the relationship between flowers and bees throughout the year (with time spent on both native bees and honeybees), the processes of scouting and foraging, discussion on the reaction of bees to periods of flow vs dearth, and the relationship between these factors, colony size, honey production, and mites/disease.
Outcomes: Attendees will be more aware of the local nectar flow and dearth times, will be better able to anticipate periods of flow and dearth, better anticipate when bees will be able to draw comb and store/cure honey, and have strategies for dealing with periods of poor nectar and pollen availability. They will also have an appreciation and awareness for dearth as an intensifying factor in various colony health factors such as mites and various brood diseases.
Field Activity: Attendees will spend some time with flowers in bloom and currently being pollinated to help illustrate points made in class and allow for questions and clarification. If conditions permit and it is appropriate for educational hives available some feeding and/or inspections may be performed, however this will only be pursued if appropriate and is not a guaranteed component of the class.
Instructor: We are very fortunate to have Brian Campbell join us as instructor for this course. Brian is a Master Beekeeper and Master Gardener, and has been keeping bees of all kinds for more than twenty years. He is the instructor of the sustainable urban beekeeping certificate course at Langara, leads the apiculture program at the Kwantlen Polytechnic University Farm School, and has been the Beeologist in Residence at UBC Botanical Garden. He is also the product manager at West Coast Seeds and has developed many wildflower mixes to support and encourage pollinators.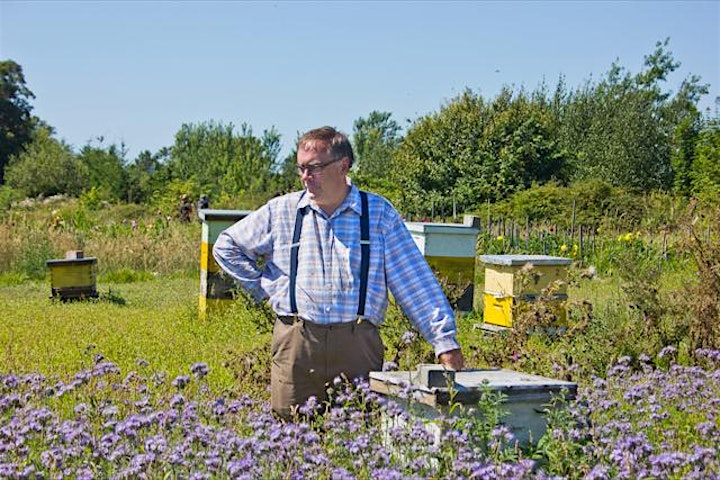 Above: Brian Campbell in one of his apiaries.
Location: This workshop take place at the West Coast Seeds trial gardens and warehouse facility, located in rural Ladner BC at 5300 34b Avenue. This location includes the West Coast Seeds warehouse and offices, but much of the property includes extensive trial gardens full of a wide variety of plants and flowers, a lovely heritage home, and busy bee hives managed by instructor Brian Campbell. This is a perfect setting for immersed outdoors learning! The seminar portion of the class will take place under tent cover with tables and chairs provided. The tent will be set up next to the heritage house, on the side closest to the road (please see map below). There will be a washroom available on site.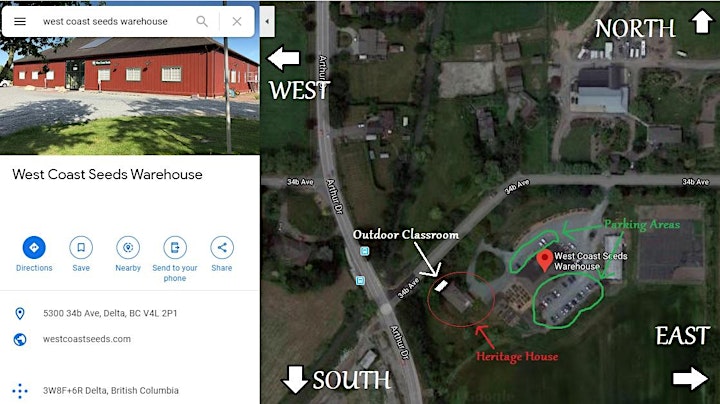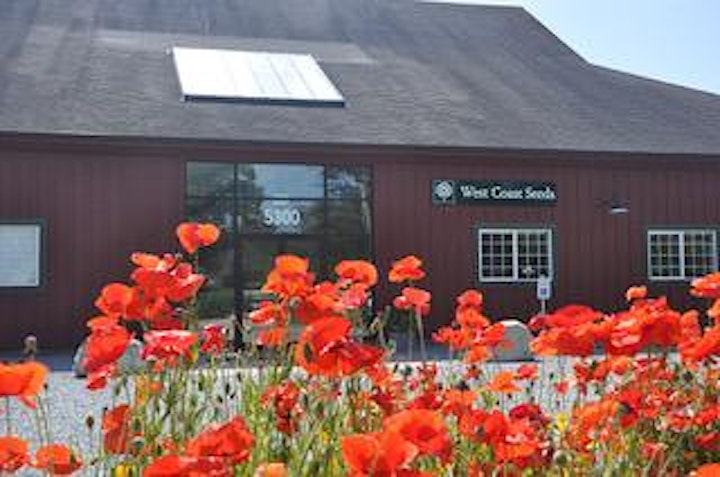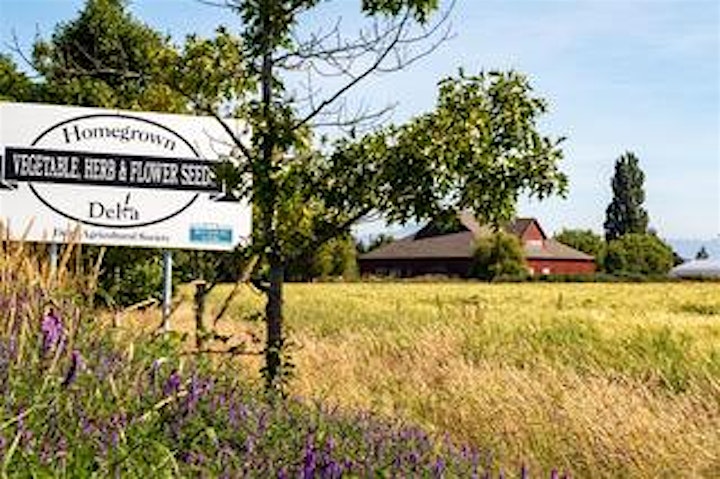 Above images: (1) view of West Coast Seeds warehouse facility and grounds from Google maps, including location of outdoor classroom, & (2, 3) images of the beautiful West Coast Seeds grounds.
Healthy Safety: Due to Covid19, we are encouraging participants to bring their own protective wear, in particular masks/face shields and disposable gloves. Hand sanitizer will be available. Our usual workshop sizes have been reduced to 8 participants, and the workshop's outdoor setting is conducive to proper spacing between participants. Please use common sense, caution and courtesy towards other participant's personal space and comfort levels during the workshop. Please follow all of instructor's directions for maintaining social distancing throughout the workshop. Prospective attendees are encouraged to let us know if they have any other preferences or requirements for their comfort in this regard and we will do our best to accommodate where possible.
Regarding Weather: Please note that field work is subject to adequate weather conditions and as such can not be guaranteed. In the unfortunate scenario that weather does not permit planned field work the workshop may by re-scheduled, delayed, or cancelled. In the case of a need for such changes attendees will be offered the option of a refund.
IMPORTANT NOTES (PLEASE READ PRIOR TO REGISTRATION):
This workshop requires you to bring your own protective clothing (suit/jacket/veil and gloves). It is required that your clothing be freshly laundered to prevent the spread of disease into the educational apiary.
Please bring a mask/face shield and gloves. Hand sanitizer and back-up safety equipment will be available on site if needed.
Please bring your own water and be prepared for various weather conditions (including breezy or windy conditions, which are common in the Ladner area).
Please anticipate that a mandatory waiver of liability will need to be filled prior to beginning participation in this workshop in recognition of the inherent dangers associated with field work and handling of honeybees and related equipment.
Hive tools and any other bee/hive handling equipment will be provided by instructor. This is required to prevent the spread of disease into the educational apiary.
Regarding cancellations: Please note that if you register and must later cancel your registration for the class due to personal circumstances a full refund can be provided minus the Eventbrite fee. Cancellations must be received 48 hours prior to the start of the workshop to provide adequate time to find a new attendee. If the cancellation was requested less than 48 hours prior to the event and we are unable to fill the vacant attendee spot Urban Bee Supplies reserves the right to retain the workshop payment. Please note that the above does not apply in the case of a cancellation due to re-scheduling (such as due to weather conditions), and a full refund WILL be applied if you must cancel due Urban Bee Supplies rescheduling the event.