Location
Kingston Mills
563 Kingston Mills Road (County 21)
Kingston, ON K7L 4V3
Canada
Enjoy a guided walk with blue marble learning scene to explore geology, rocks, water, and more at Kingston Mills
About this event
About the walk
Your guide Tara will talk to you about the geology, how rocks form, what types of rocks you are seeing and more as you explore Kingston Mills.
The total walking distance will be 1 - 2 km along grassy areas, in forests, and by roads (there are stairs).
This walk is great for families, individuals, and anyone looking to spend some time outside and interested in learning something new. Recommended for individuals over 7 years of age.
Share your photos from the walk with #walkingwithbluemarble
Cost
Walking with blue marble learning scene is FREE! We want to ensure that everyone can enjoy nature. That being said, we do appreciate donations as it helps us to continue doing what we are doing and will help to make sure we are able to stick around (we are a new business just launched in 2021).
Donations can be made on our website (www.bluemarblelearningscene.ca/walking-with-blue-marble) or with cash during the walk.
IMAGE: walking with blue marble at Topsy Farms on April 23, 2022. Tara Leading a group of adults and children.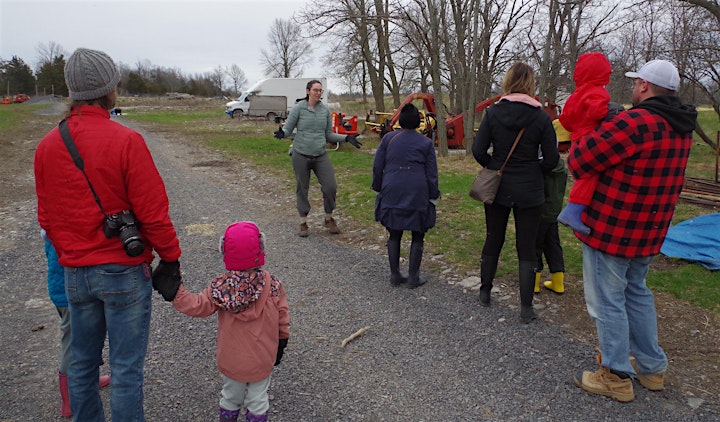 What to bring
The great thing about guided walks is you just need to bring yourself, a pair of shoes, and your curiosity
Meet your guide Tara
Tara is one of those people you find sharing knowledge of the natural world at unsuspecting times and who has a natural curiosity about the Earth. It was a childhood in the beauty of the 1000 Islands and Frontenac Provincial Park that sparked Tara's love for rocks and water and which flamed her desire for environmental knowledge to answer why things are the way they are. This desire led her to a career as a hydrogeologist, working with groundwater and geology in research, consulting, and conservation within Ontario. Tara spent 13 years learning about and working in environmental sciences, and is now ready to take what she has absorbed to inspire others within Ontario to reconnect with nature and develop their own undying curiosity for everything environmental.