Wallaceburg Regional UNBRIDLED Gathering

Saturday, 7 May 2016 from 10:00 AM to 5:00 PM (EDT)
Event Details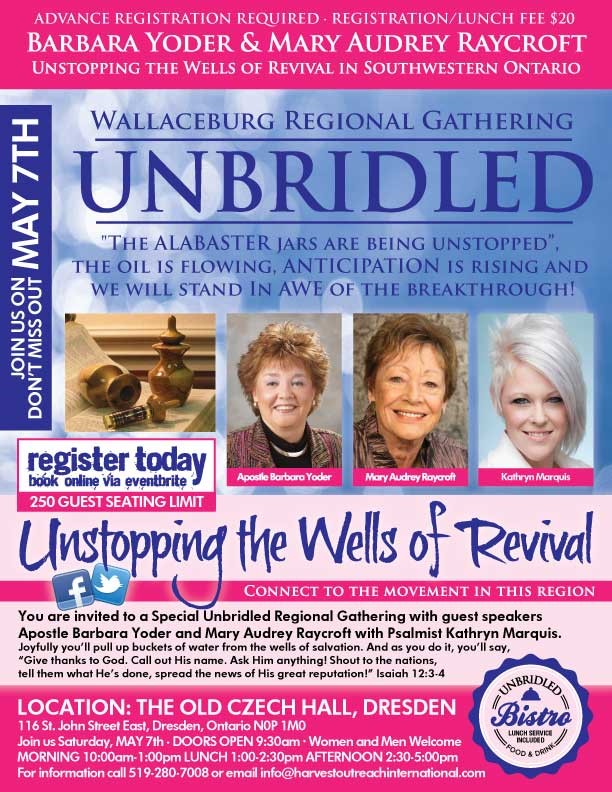 We want to invite
you to this
Special Event hosted by Wallaceburg Regional UNBRIDLED at "The Old Czech Hall" in Dresden, Ontario on May 7, 2016 with Guest speakers Apostle Barbara Yoder & Mary Audrey Raycroft with worship by Psalmist Kathryn Marquis
The purpose of these regional gatherings is to release God's people into the potential of their giftings, callings and destinies. Our goal is simple, yet comprehensive in scope and is committed . . . . 
To unstop the rich wells of revival dug so many years ago by previous generations

To ignite & maintain new Fires of Revival in Southwestern Ontario

To reach people in cities, towns, villages & crossroads leaving no one behind

To release the "Wind of the Spirit" to fan the Flames of Revival

To raise up a triumphant & radical remnant of God's people

To bring transition in the hearts & minds to shift the spiritual climate in the region

To prepare hearts and minds for life-changing encounters with God

To restore the Church to its original blueprint as in the Book of Acts

To build bridges to bring unity, harmony and co-operation to Southwestern Ontario

To deploy an army of Believers to prepare for the coming Great Harvest in Canada

To preach the Gospel, teach, train & disciple by gathering, equipping & sending
The ALABASTER Jars are being unstopped, the Oil is flowing, ANTICIPATION is rising and we will stand in AWE of the coming breakthrough!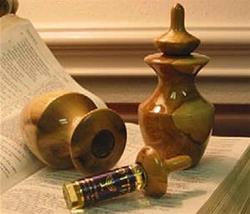 YOU DO NOT WANT TO MISS THIS EXTRAORDINARY EVENT!
 LOCATION
THE OLD CZECH HALL
116 St. John Street East
Dresden, Ontario  N0P 1M0
DATES & TIMES
SATURDAY, May 7 
Doors Open at 9:30am
Morning Session:  10:00am to 1:00pm 
Lunch:  1:00pm to 2:30pm
Afternoon Sessions:  2:30 to 5:00pm
FOR MORE INFORMATION
Email: info@harvestoutreachinternational.com 
Phone: 519-280-7008
BARBARA J. YODER - SPEAKER     
Barbara J. Yoder is the founding apostle and senior pastor of Shekinah Regional Apostolic Center, a racially and culturally diverse church in Ann Arbor, Michigan. She serves on several boards of ministry nationally. Barbara leads Breakthrough Apostolic Ministries Network (BAMN) a network of pastors, ministry leaders and marketplace leaders. She travels extensively as a national and international speaker, ministering at various conferences and churches. She is the author of 5 books; has contributed to the Women of Destiny Bible and has been featured on the cover of Charisma magazine as one of the most influential women leaders in the church today. Barbara has a passion to see the apostolic church restored (Acts 15:16-17) which will cause a harvest to erupt in cities, regions, nations, as well as the kingdom of God to manifest in every sector of society. She is known for her cutting edge apostolic breakthrough anointing infused with prophetic revelation.
MARY AUDREY RAYCROFT - SPEAKER   
Teaching Pastor at Catch the Fire (formerly Toronto Airport Christian Fellowship). Mary Audrey has been on the Catch the Fire team since 1993.  With her exhorting, mentoring and teaching skills she has ministered to both men and women in large and small groups, seminars, retreats, and conferences both in the local church and internationally. Ministering in a wide variety of churches for over 30 years, both locally and internationally, her heart is for unity in the body of Christ. She is the founder of Releasers of Life, a cross-denominational ministry called to awaken, equip and release women and men into their potential and destiny through conferences, retreats and seminars. She has written a number of teaching manuals and her book, Releasers of Life: Discover the River Within, has been translated into several languages. Her current book, Once Upon a Revival, has been well received as a subjective over-view of the "Toronto Blessing" which impacted people from around the world since 1994.
KATHRYN MARQUIS - GUEST PSALMIST
Kathyrn will be drawing us into His presence through worship.  Kathryn is an itinerant worship leader, teacher, conference speaker, and recording artist with a mandate and passion to see the corporate Body of Christ restored to encounter-driven worship of the triune God. She carries a powerful impartation both as a speaker and a worship leader that releases healing, freedom, and a paradigm shift concerning a lifestyle of abandon, purity, passion and worship in all things.
 REGISTRATION IN ADVANCE
$20. per person & includes Lunch 
Fresh prepared lunch will be served on site
Includes: Soup or Salad, Sandwich or Wrap, Dessert & Beverage
 Seating is limited to 250 people 
REGISTER ON LINE TODAY!
RECOMMENDED HOTEL
Holiday Inn Express
575 Richmond Street
Chatham, Ontario  N7M 1R2  (25 minutes)
Phone(519) 351-1100
Hotel Reservations: 877-660-8550
SPECIAL RATE:  $129.99 until April 22 (2 Queen Beds)
 GET ON BOARD THE GLORY TRAIN TODAY!
When & Where

THE OLD CZECH HALL
116 St. John Street East
Dresden, ON N0P 1M0
Canada

Saturday, 7 May 2016 from 10:00 AM to 5:00 PM (EDT)
Add to my calendar