Attend the world premiere of this immersive outdoor musical storytelling experience!
About this event
Inspired by the land, water and sky, Wandering with Wonder is an immersive outdoor musical storytelling experience using the arts to reconnect people with nature. This 90-minute performance takes the audience through an adventure of mystery, loss and discovery while featuring newly composed music by five Canadian composers: Chris Andrew, Jordan Andrew, Matt Epp, Sherryl Sewepagaham, and Walter MacDonald White Bear.
On this journey, the audience will meet a magical young woman (a puppet), Wonder, who will guide them through a day that never was. Through her eyes, we experience the transformational power of nature, music and friendship as she goes in search of her lost song.
Note: this performance is not recommended for children under 5.
Important Information About This Experience:
*NEW*: due to the evolving pandemic situation in our area, the Leighton Heritage Home will NOT be open to ticketholders at any time during September 18 and 19. Thank you for your understanding. We do currently have portable washrooms and handwashing stations available for your use.
For each audience member, please bring headphones or earbuds with a 3.5 mm single-jack plug to attach to the provided portable FM radio receiver. NO WIRELESS HEADPHONES & NO AIRPODS, as they are not compatible with our receivers. We will have a small number of headphones available for purchase ($10 cash per set), but we highly recommend you bring your own. Use of the pre-sanitized radio receiver is integral to fully experiencing the performance.
Face masks are mandatory while attending this performance (including outdoors). Please bring your own, but we will have a few disposible ones available if anyone forgets.
This performance takes place outdoors, rain or shine. Please dress for the weather and wear good walking shoes, as you will be moving over uneven ground. Dress in layers and prepare for breezy conditions. No umbrellas please, as you will be walking in a group.
Many routes to Leighton Art Centre from Calgary are currently affected by road construction (and some are entirely closed). Please review our recommended route and leave yourself lots of extra time: leightoncentre.org/visit/getting-here.
Please arrive no later than 15 minutes prior to performance time. We will have a guest list available, but recommend bringing a paper or digital copy of your ticket with you.
Leighton Art Centre will be closed to everyone except ticket holders over the weekend of September 18-19.
Written and produced by Samantha Whelan Kotkas 
Dean Bareham - Director
Chris Andrew - Music Director
Paul Johnston - Recording Engineer
Tobias Kalden - Technical Director
Lynne Huras – Artwork
Anni Kuhn – Costume Designer
Christy Mackintosh – Story Editor
Featuring Performances and Music By 
Matt Epp
Chris Andrew
Rubim de Toledo
Jamie Cooper
The Lily String Quartet
Samantha Whelan Kotkas
Walter MacDonald White Bear
Jordan Andrew
Sherryl Sewepagaham
Yukichi Hattori
Luminous Voices - Directed by Timothy Shantz
Cancellation and Refund Policy: Purchased tickets are non-refundable. Should you be unable to attend, you may transfer your ticket to another attendee.
A refund will be only be issued to participants if the event is canceled by Leighton Art Centre or the performance producers due to extreme weather conditions or Covid-19 restrictions. In that unexpected event, the event would be canceled prior to the start date and participants notified via email, and a full refund processed.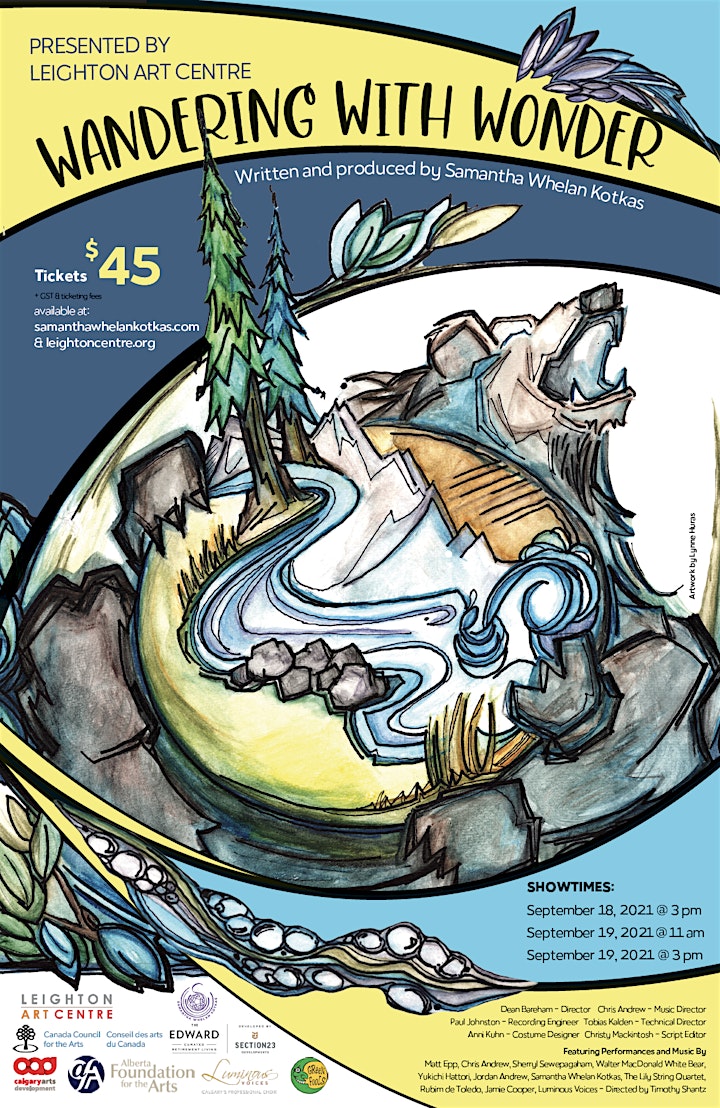 Organizer of Wandering With Wonder
The Leighton Art Centre is located on 80-acres of spectacular foothills landscape 20 minutes SW of Calgary. As a museum, art gallery and education space, the Leighton Art Centre offer visuals art exhibitions, festivals and sales, education programs and hands-on workshops for artists of all levels.   
The Leighton Art Centre is a not-for-profit organization, we encourage admission by donation.