"Canada's premier Spice Girls Tribute Band delivers epic waves of 90's nostalgia.
About this event
The Park Theatre is proud to present Wannabe – Spice Girls Tribute. With giant personalities, British accents and platform shoes, these five Toronto women deliver the ultimate 90's dance party, ,sharing a message of love, equality and, of course, GIRL POWER!
Doors 7:00 pm / Show 8:00 pm / Tickets $20 in advance
Opening DJ Set to get you in the Party Mood by DJ K Chedda
Tickets available at The Park Theatre and online at Eventbrite
When it comes to celebrations, epic dance parties and conjuring up serious 90's nostalgia, no one does it better than the darlings of Toronto's cover-band scene. This 5-member outfit is a staple in venues, festivals and soft seaters across Canada.
Now, the platforms are higher, the accents are stronger, the dance party is wilder and the costumes more outrageous and spectacular than ever before. From back-up dancers to flash-mobs to gospel choirs to celebrity guests, each show offers a surprise twist, keeping Wannabe fans coming back for more.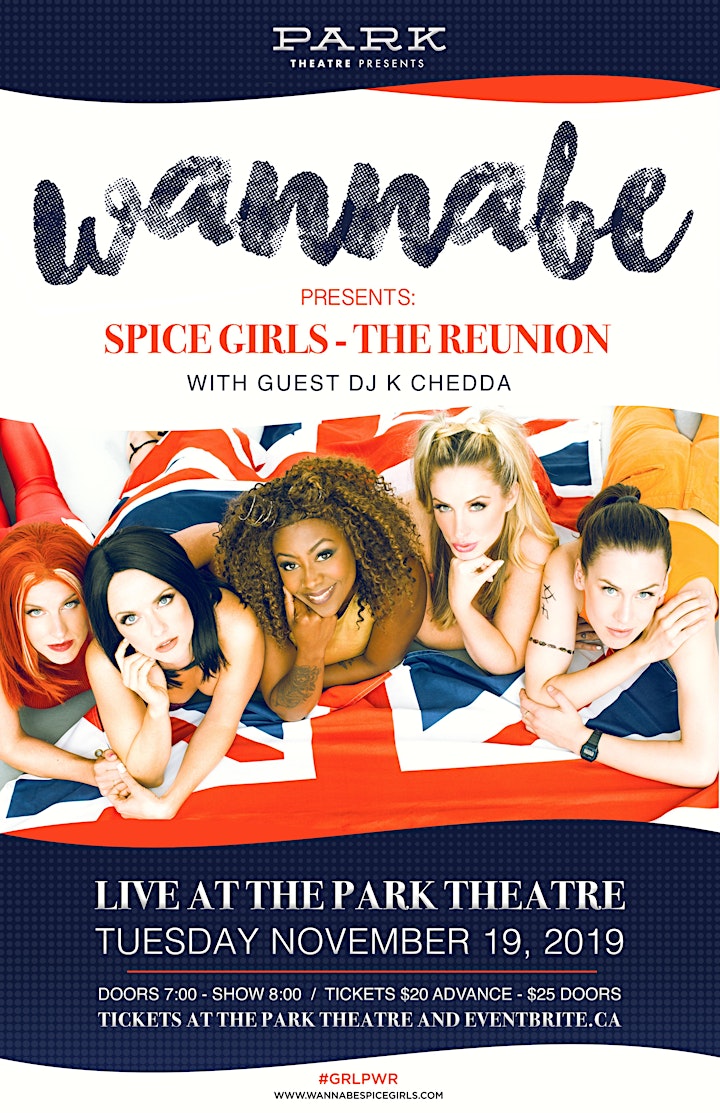 Organizer of Wannabe A Spice Girls Tribute
The Park Theatre, now in its fifteenth year of operations and has grown into one of Winnipeg's premier live event venues. With over 300 events a year spanning music, comedy, theatre, and film, the room has become home to an expansive community of artists.
In 2014 The Park Theatre was awarded "Venue of the Year" at the Western Canadian Music Award's, after being nominated for the same award in both 2012 and 2013.
The venue itself is a renovated movie theatre that opened in the fall of 1915. While many of Winnipeg's neighbourhood theatres have been demolished or "repurposed" into bowling alleys or retail stores. The Park managed to hold out for 73 years before fate caught up with it. After sitting vacant for nearly a decade it was revived into what is now one of Winnipeg's most popular live music venues.
With its high-quality sound, great atmosphere, two full-service bars, and premier live entertainment from local acts to international touring artists, it's no wonder that artists and audiences alike keep coming back.