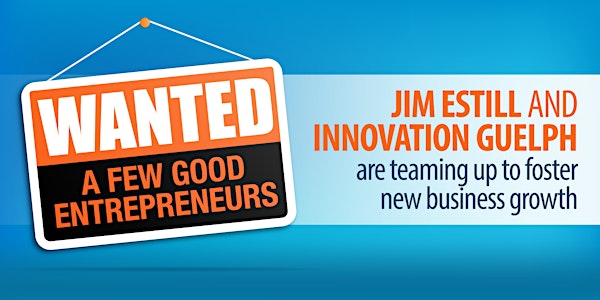 WANTED: A Few Good Entrepreneurs!
When and where
Location
Innovation Guelph - 3 Floor 111 Farquhar St Guelph, ON N1H 3N4 Canada
Description
Wanted: a few good entrepreneurs!
Jim Estill and Innovation Guelph are teaming up to foster new business growth.
---
Introducing our first "reverse collision day" featuring Jim Estill, President and CEO of Danby.
A typical Collision Day involves:
A large company that's interested in connecting with startups and local SMEs to discover and leverage new technologies and innovations.

Local startups and SMEs looking for key customers, strategic partners, and/or investors.

An organization like Innovation Guelph to facilitate the day and set up meetings.
For this reverse collision day, we've switched things up!
Instead of Danby looking outside for startups and new technologies, we are inviting local entrepreneurs to look inside Danby for spin-off and business expansion opportunities.
Are you:
A serial entrepreneur between companies?
Someone with a passion for business who hasn't yet found the right opportunity?
An existing business owner looking to expand sales of products or services that can be offered to Danby more economically by a local vendor?
If so, join Jim Estill and his Executive Team at Innovation Guelph for this unprecedented opportunity!
You will have a chance to hear Mr. Estill`s vision for launching multiple spin-off businesses to capitalize on Danby`s existing infrastructure, market knowledge and industry contacts.
If you have your own entrepreneurial aspirations, be sure to request a one-on-one meeting with a Danby Executive. And come prepared to share why you should be one of the few good entrepreneurs Mr. Estill decides to work with.
Sponsored by RLB &

City of Guelph Economic Development