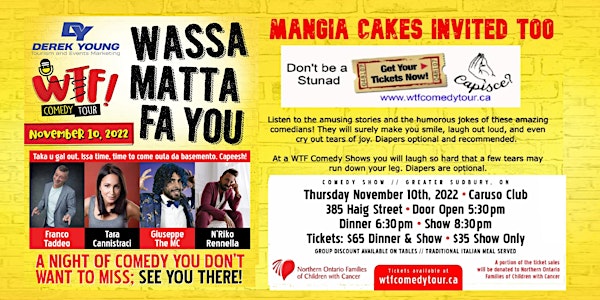 WASSA MATTA FA YOU
AT WTF COMEDY SHOWS YOU WILL LAUGH SO HARD THAT TEARS MAY RUN DOWN YOUR LEGS. DIAPERS ARE OPTIONAL.
When and where
Location
Caruso Club 385 Haig Street Greater Sudbury, ON P3C 1C5 Canada
Refund Policy
Contact the organizer to request a refund.
About this event
Laughter to the Extreme!!!! Listen to these amazing second generation Italian-American comedians telling stories on what it was like growing up in an Italian family. It's finally time for some good, old-fashioned belly laughs. For many years, these Italian-American comedians have been making people laugh by sharing memories through their unique brand of comedy on how it was like to grow up as an Italian.
Listen to the amusing stories and the humorous jokes of these amazing comedians! They will surely make you smile, laugh out loud, and even cry out tears of joy.
Join us for dinner or just for the show.
Tara Cannistraci
Tara is an Italian-American stand-up comedian born and raised in the Bronx, NY. She uses her New York upbringing as the foundation for her take on observational comedy.
She has taken her talents to stage, television, film, off-Broadway and centerfield as the scoreboard host for the New York Yankees.
She wrote for and and was featured on SportsNet New York's (SNY) "Oh Yeah". Tara is the co-creator of We Stand Comedy, a production house that produces live shows and digital content.
She is a proud member and regular performer at the world famous Friars Club, and produces and performs for fellow Friar Chazz Palminteri's Child Reach Foundation annual event. She also has toured regionally with Danny Aiello's Italian Chicks.
Tara performs regularly in NYC, throughout the country and Canada.
Franco Taddeo
In these days of social distancing in which we are all trying to keep in touch, breaking the barrier between audience and performer so that a performance becomes a shared experience for all to laugh and celebrate: this is Franco's comedy mission.
For one moment, someone in every audience somewhere along his routine will think, Yeah, me too!
From the unique trajectory of academia to comedy stages across North America, his ability to channel the outsider in all of us has made him a club, festival, corporate, fundraising gala & radio favourite.
He livens up CBC Radio-1 Montréal – Daybreak as its Parenting Columnist with his humorous yet insightful anecdotes on surviving parenthood as the father of three in a world where time and patience are fleeting. He's also been a star of the TV Comedy Special – Whose Canada is it?, a performer and writer on the acclaimed CBC Radio series The Debaters, a star of Three National Tours and The Winnipeg – Boston- Cornwall & Laval Laughs Comedy Festivals.
N'Riko Rennalla
N'Riko is a talented comedian from Italy. His style is unique, effervescent and down-right hilarious.
He has won the love of his audiences worldwide and continues to amuse and entertain with always fresh and new material.
He is Italian, that's for sure, but he spent many years of his life in the City of Lights. Born from the union of a Neapolitan father and a Parisian mother, N'Riko carries within him the perfect mixture of "la dolce vita" and the "savoir faire" from two of the most beautiful cities in the world.
N'Riko was born in Paris, on April Fool's day ... destiny? Probably so. At the young age of one, he moved to Naples, Italy, where he did most of his growing up and where he mastered the art of comedy. As a young man, N'Riko worked hard to achieve his dreams. He tackled every and any job available to provide for himself and carve out his career as a future showman. He's been everything from a waiter to a restaurant owner, from a clerk to a nightclub manager.
In his 20's, N'Riko moved back to Paris and continued to pursue his dreams. He began performing all over Europe, in countries like Belgium, France and Switzerland. He then discovered Canada and fell in love with the local Italian-Canadian community. Performing in U.K., Australia and a headline opener for the famous Joe Avati!.
With dozens of sold-out shows under his belt, N'Riko is ready to push forward and bring his comedy to the world.
GIUSEPPE THE MC
Giuseppe Meleca, or as some of you may know him; Giuseppe The MC, has made quite the name for himself. Having toured all over England, Australia and North America, the Torontonian is just getting started with big projects lined-up, while never losing sight of his roots.