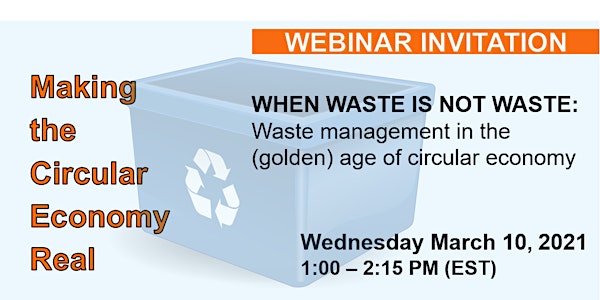 Waste management and circular economy
When waste is not waste: Waste management in the (golden) age of the circular economy
About this event

In the Circular Economy there will be no more waste: So how will it be managed?
The answer, most simply, is to drive and transform today's waste into tomorrow's raw material and products. As part of their commitment to a full circular economy by 2050 the Netherlands has set an important interim goal to halve primary resource usage by 2030 (by keeping existing materials in the economy).
In this webinar you will get a high level - to -granular overview of how this government wide initiative is working in the Netherlands.
Our four speakers will delve into how government policies and incentives create strong signals to change current business models; how municipalities are taking up the mantle to innovate away from waste management and towards upcycling; and how the private sector literally and efficiently dismantles mattresses and sends their various component parts back into the circular economy.
We look forward to seeing you there!