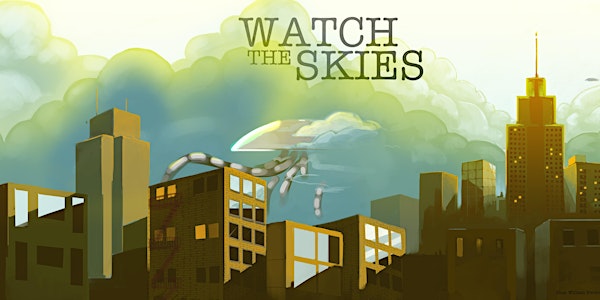 Watch The Skies!
When and where
Location
Bonsor Recreation Complex 6550 Bonsor Avenue Burnaby, BC V5H 2G8 Canada
Refund Policy
Contact the organizer to request a refund.
Description
Watch The Skies! @ Trumpeter Salute 2017!
Aliens have suddenly become very active, and the governments of the world want to know why. Advance your personal and national interests while paying attention to the looming threat in the skies, not to mention those earthbound looking to take advantage.
Nations are teams of 5, each player responsible for a specific role in that nation: Head of State, Deputy Head of State, Chief of Defence, Chief Scientist and Foreign Ambassador.
The Media is trying to find proof of alien existence, and it is made up of 3 players, each competing to win the Pulitzer Prize; every 30 minutes they will collectively put out a news report.
Twelve players, hidden away from all the others, will be the aliens; their goals and motives known only to themselves (and game control).
You will be able to specify if you have a team already, and will be given the opportunity to voice your preference in what you'd like to do, and we will do our best to accommodate. That said there are only so many of each role available, so you may not get your first request.
This MegaGame is happening as part of Trumpeter Salute convention. You will need to purchase a ticket for Watch The Skies as well as entry to the convention for at least Sunday, but if you get a weekend pass you can see all the other awesome games they'll have going Friday & Saturday! The tickets for this event of Watch The Skies is marked down to accommodate for the extra cost of the convention ticket. The event starts at 10am sharp, so make sure to show up earlier to get settled in.
Watch The Skies! British Columbia is brought to you by REAL Entertainment:
https://www.facebook.com/REAL-Entertainment-452882351429140/
https://www.facebook.com/WatchTheSkies.BC/
Trumpeter Salute is brought to you by The Trumpeter Tabletop Games Society:
http://www.trumpetersociety.com/