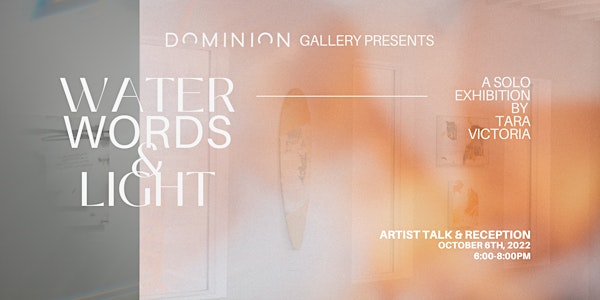 Water, Words & Light - A Solo Exhibition by Tara Victoria
Dominion Gallery Presents: Water, Words & Light - A Solo Exhibition by Tara Victoria
When and where
Location
78 9 St NE 78 9 Street Northeast DOMINION YYC - GALLERY Calgary, AB T2E 7J3 Canada
About this event
Water, Words, & Light
This group of artworks combines 3 years of work and 3 different collections. Each collection inspired and created with a different process. The first is called Phosphoresce – to glow in the dark. It was inspired by the balancing act of dark and light, good and bad, positive experiences and negative ones. A personal fascination with studying how light finds its way in and through objects, shadows, and darkness. Seeing the human experience in these shapes and our ability to be resilient.
The second is called Threads of Sonder, which was created by interviewing a select group of people, asking them to tell me a story from their life, and painting a visual representation of that story. Each piece was infused with the question: what happens when we release a story into the wild and trust someone to create something tangible with it?
The latest collection of work is called Waves, which was created using select moments, stories, and thoughts from my own life, pieced together through visuals and written word. Within each piece, was a hope that the audience might feel seen–no matter what their waves have looked like.
Though each collection is rooted in different concepts, the common thread running through each piece of work that I've created over the last 3 years is to allow the audience to see themselves in someone else. Whether that was creating a visual representation of a story from someone else, from my own story, or by being inspired by the balancing act of dark and light–the goal remained the same. And today, seeing these collections hanging all together on these walls, my hope for you is the same: may you feel a little more seen, understood, and maybe a little less alone in this world.
About the Artist
Tara Victoria is a Calgary based Artist whose work is rooted in bringing stories to life. Her abstract paintings, realistic portraits, murals, and designs tell tales of the human experience. Through a process of conversation, listening, and experimentation, she creates tangible artworks in the hope of allowing people to see themselves in someone else.
tara.v.ludgate@gmail.com | taravictoria.com