About this Event
Learn two new skills in one workshop this spring!
Join us for a collaborative workshop taught by Aggie Armstrong (@aggie_armstrong) and Jovie Galit (@pinyaletters).
All the professional grade supplies you'll need for the workshop will be provided and will be yours to bring home, including a watercolour basics booklet, calligraphy worksheets, as well as some refreshments.
Saturday, April 4 , 2020 | 5:30 - 8 PM
Paper Plus Cloth: 1340 Queen St. West, Toronto
Aggie Armstrong (@aggie_armstrong) is a multi-passionate creative entrepreneur offering individuals and organizations custom artwork. She works with watercolours bringing a playful spirit and refined technique to all spaces and things that brighten your world.
She loves teaching watercolour workshops to share the meditative components art brings to people. Aggie believes that art can bring out or restore one's creative skill, self awareness and even emotional resilience.
Aggie has a Bachelor of Fine Arts degree from Western University in London, Ontario Canada and her experiences with photography and illustration are extensive. She has trained with renowned Pulitzer winning photojournalist David Turnley, in New York City, and studied intensive lifestyle and branding photography with Danish artist, Christina Greve. Aggie has taken practical courses with Define Photography School and advanced photography with the New York institute of Photography. Aggie has shown her photography work in London, Ontario and in Toronto.
Aggie is also a contributing writer for Cynthia Loyst (who is one of the hosts of CTV's The Social) and her website findyourpleasure.com
You can find more of Aggie's work, or commission her for photographs or watercolour art on her website aggiearmstrong.com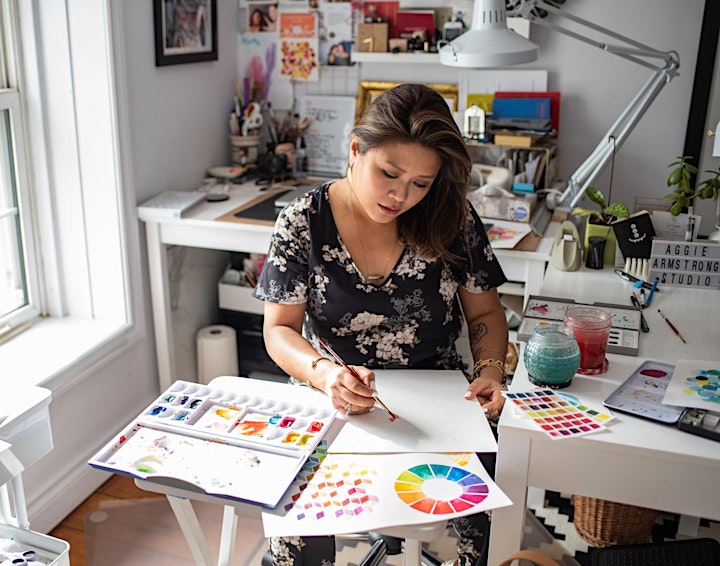 Jovie Galit (@pinyaletters) is a Filipina-Canadian calligrapher who started Pinya Letters 3 years ago. Since then, she's  done calligraphy for countless weddings, corporate and special events, and recently produced customized Filipino merchandise through her craft. When she's not doing calligraphy, she works as a Settlement Worker supporting newcomer families towards settlement and belonging.
She sees calligraphy as a tool that can wonderfully represent people's stories and identity; so for her, the best part of being a calligrapher is having the ability to customize pieces that are reflective of that.
Jovie's work has been featured in multiple magazines and large platforms such as Ultimate Wedding Magazine, Today's Bride, MunaLuchi, The Bridal Affair and Toronto Reel Asian Film Festival.