Description
Come and enjoy a day of painting outside at the stunning Leighton Art Centre location! The workshop is designed for artists of all levels who are either new to watercolour plein air painting or want to improve their existing skills. Karin will introduce different ways to approach capturing the out of doors, starting with how to see correctly and how to commit it to paper using W/C pens, pencils, paint and brush.
Through demonstrations, personal attention and critiques, Karin will focus on the elements needed to create a successful painting like strong composition and design, exciting colour and tonal values.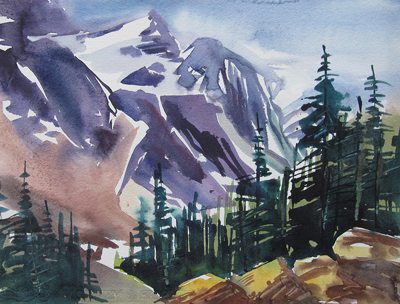 Audience: This class is suitable for Beginner with some painting experience, Intermediate and Advanced students.
Supplies: Here is Karin's list of supplies:
"Please bring along all your watercolour supplies you normally use. Scale them down so they can fit into a knapsack. In my classes, I ask for the following items:
Watercolour Paints (could be a small paint set) (LAC has a student quality watercolour kit to lend out)
Preferably Winsor & Newton or other artist-quality:
Aureolin Yellow
New Gamboge
Cadmium Red Light
Alizarin Crimson or Permanent Rose
Winsor Blue
Ultramarine Blue
Burnt Sienna
Watercolour pencils or crayons
Watercolour Paper
A watercolour pad will do, make sure it is at least 110 lbs. cold pressed
Watercolour Brushes (LAC has a variety of brushes to lend out)
#8 round, 1/4" flat and 1" flat
Make sure your supplies include: (LAC has folding transportable chairs and Portable Easels to lend out)
W / C Palette (if not part of your paintbox), Small Kleenex, Water Container (collapsible kind is great)
Masking Tape, Small Water Spray Bottle, Pencil & Eraser, Permanent Marker, Sharpie Ultra fine
Non-Permanent Marker such as Pilot Fine liner, Small Sketch book and a stool to sit on!
Please note: If you are a beginner, you might also be interested in my Workshop in a Bag which contains everything you need, available at the Leighton gift shop."
Registration cost: $125 + GST & Eventbrite Fees*
* or register by phone: 403-931-3633, Mon-Sat, 10 am – 4 pm to avoid Eventbrite fees
Did you know that Members of the Leighton Art Centre get 10% off the registration cost of all workshops and kids' summer camps? Please visit www.leightoncentre.org/support/members.
For our Cancellation and Refund Policy, please visit www.leightoncentre.org/programs-events/adult-programs.
Artist/Instructor Bio:
Karin has had a passion for painting since she was a child. She has been a professional award-winning artist for almost 30 years exhibiting internationally. She draws inspiration from the Rocky Mountains close at hand but also from international destinations she travels to on a regular basis. Karin is an elected member of Canada's prestigious art societies and has been recognized for her work in the art community with the Immigrant of Distinction Award. She is an enthusiastic art instructor to many aspiring artists in classes, workshops and painting holidays on land and at sea in Canada and internationally. She is a sought-after juror, critic and organizer of art events at every level. Art is Karin's life and her passion for the arts is evident in her colorful work and her community spirit.