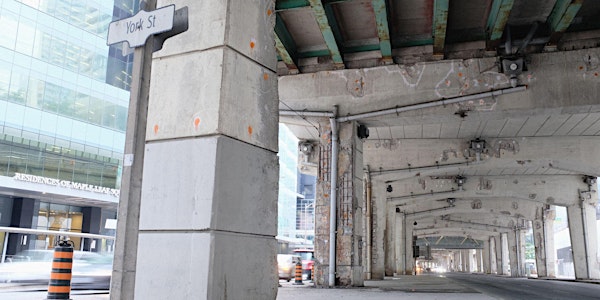 Waterfront ReConnect Design Competition Information Session
Prospective applicants are invited to an online information session to learn more about the Waterfront ReConnect Design Competition.
Date and time
Tue, Jul 27, 2021 9:00 AM - 10:30 AM PDT
About this event
Prospective applicants are invited to participate in an online information session with The Bentway and the Waterfront BIA to learn more about the Waterfront ReConnect Design Competition. This session will discuss the design project objectives, outline the competition timeline, review the required components of the Expression of Interest and give an opportunity for attendees to ask questions.
This online session will be posted following the event for those unable to attend live. Captioning will also be available.
About the Waterfront ReConnect Design Competition
Designed for a car-centric era, Toronto's Gardiner Expressway has long served as a street-level barrier between the city's core and a blossoming Waterfront. But, as the city recovers from the COVID-19 pandemic, what if this obstacle could be re-imagined as a vital point of connection? In collaboration with the City of Toronto, the Waterfront BIA, and the Toronto Downtown West BIA, The Bentway is proud to present the Waterfront ReConnect Design Competition. This competition hopes to engage professional Canadian artists and designers who will be engaged in the development of creative interventions that re-imagine the experience of two key intersections under the Gardiner – York Street and Simcoe Street.
For more details, visit TheBentway.ca/eoi-waterfront
Download the complete Call for Expression of Interest here.
About the organizer
The Bentway works to ignite the urban imagination, using the city as site, subject, and canvas. Anchored under Toronto's Gardiner Expressway and guiding its complex future, The Bentway is a growing public space, and much more. It is a new type of civic organization: an independent charity and a not-for-profit, powered by vital partnerships with the City of Toronto, residents, supporters, artists, creatives, city-builders, and dreamers. The Bentway is a catalyst rooted in experimentation, demonstration, and regeneration; leading a creative movement to re-imagine the opportunities of urban spaces.
Since Phase 1 of The Bentway – under the Gardiner from Strachan Ave to Fort York Blvd – opened in 2018, it has proven to be a vital public space, backyard park, cultural platform, connector for the western Waterfront corridor and a demonstration of what is possible. In partnership with the City of Toronto, The Bentway is creating a network of public spaces, developing a cohesive vision for wayfinding and reconnecting the waterfront to the downtown core.
Visit thebentway.ca and follow @thebentway on Twitter, Facebook, YouTube and Instagram for details about upcoming programming and projects.