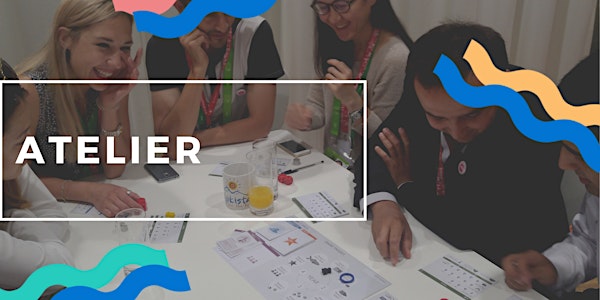 #WaterGeneration Beyond Borders: Co-creating the future we want!
Location
Maison du développement durable
50 Rue Sainte-Catherine Ouest
Montréal, QC H2X 3V4
Canada
Joins-toi au mouvement #GénérationEAU | Join the #WaterGeneration movement
About this event
English to Follow
Le Secrétariat international de l'eau, avec le soutien de Montréal International, a le plaisir de vous inviter à « #GénérationEAU au-delà des frontières: Co-créer le futur que nous voulons » Cet atelier s'inscrit dans le cadre du lancement d'un pôle mondial de la jeunesse, de l'eau et du développement durable.
L'atelier aura lieu le mercredi 27 novembre de 13h à 17h et le jeudi 28 novembre de 9h à 15h à la Maison du développement durable (50, rue Sainte-Catherine Ouest), à Montréal.
Venez découvrir et développer des solutions pour l'eau et le climat pilotées par les jeunes. Joignez-vous à d'autres jeunes leaders locaux et internationaux pour discuter d'enjeux tels que la gestion durable de l'eau à Montréal, les stratégies permettant aux jeunes de participer à la conception de politiques de gestion des ressources en eau et de coopération internationale.
Nous espérons que vous serez des nôtres pour cet atelier !
Les places sont limitées. Les jeunes leaders de l'eau désireux de faire partie d'un mouvement mondial pour l'eau sont invités à postuler avant le 18 novembre.
Les participants seront invités à assister à l'inauguration officielle du nouveau pôle mondial pour la #GenerationEAU (16h – 17h). Les représentants officiels du gouvernement fédéral, du gouvernement du Québec et de la ville de Montréal seront présents et échangerons avec les jeunes sur les défis environnementaux et solutions à mettre en œuvre.
-------
The International Secretariat for Water, with the support of Montréal International, has the pleasure to invite you to "#WaterGeneration Beyond Borders: Co-creating the future we want!" This workshop is part of the launch of a new global hub for youth, water, and sustainable development.
The workshop will be held on Wednesday November 27th 1pm – 5pm and, November 28th at 9am - 3pm at the Maison du développement durable (50 Sainte-Catherine Street West, Montreal).
Come discover and develop youth-led water and climate solutions. Join local and international young leaders to discuss topics such as sustainable water management in Montréal, ways for young people to be engaged in water resources management policy design and strategies for international youth cooperation.
We hope you will join us for the workshop!
Capacity is limited, and young water leaders interested in being part of a broader global movement for water are asked to apply by November 18th.
Participants are invited to stay for the Official Launch Ceremony of the new global hub for the #WaterGeneration (4pm-5pm). Official representatives from the federal government, the government of Quebec, and the City of Montreal will be in attendance and exchange in an inter-generational dialogue about water-related challenges and innovative solutions.