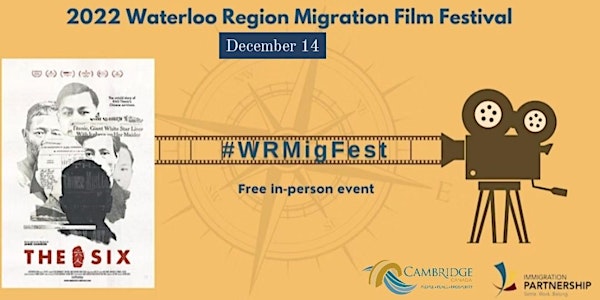 Waterloo Region Migration Film Festival 2022
We invite you to the WRMFF film screening of "The Six" followed by a special Q & A.
When and where
Location
Cambridge Centre 355 Hespeler Road Cambridge, ON N1R 6B3 Canada
About this event
Mark your calendars!
The city of Cambridge's Newcomer Outreach Program – and the Equity, Diversity, Inclusion and Accessibility Services in partnership with Immigration, Refugee, and Citizenship Canada, and Immigration Partnership Waterloo, invite you to the in-person screening of "The Six." Join us for a post-screening conversation with filmmaker and writer Steven Schwankert, Dan Schmalz - City of Cambridge, Information and Archives Analyst, and Julie Hamilton - local resident and researcher for the film, to reflect on migration and resettlement.
When RMS Titanic sank on a cold night in 1912, barely 700 people escaped with their lives. Among them were six Chinese men. Arriving in New York with the other survivors, Less than 24 hours later, they were expelled from the country, soon forgotten, and lost beneath the waves of time. What became of them? The answer is the story of many like them, who travel thousands of miles from their homes in search of better lives, only to be met by hostility, hysteria, and walls at the border. The Six is an extraordinary story of survival and dignity in the face of racism and anti-immigrant policy that still reverberates today.
To view more WRMFF films visit here : https://www.immigrationwaterlooregion.ca/en/business-opportunities/film_festival.aspx
Light refreshments will be provided.