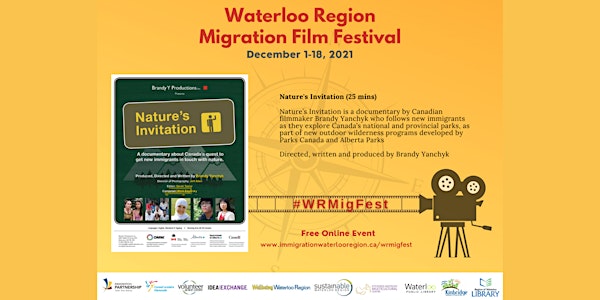 Waterloo Region Migration Film Festival: Nature's Invitation screening
Join us for a virtual screening of Nature's Invitation: A documentary about Canada's quest to get new immigrants in touch with nature
About this event
The Immigration Partnership is pleased to announce that it is hosting the 2021 Waterloo Region Migration Film Festival (WRMFF) from December 1st to 18th (International Migrants Day)! The goal of the Festival is to pave the way for greater discussion around migration and relocation, by creating safe spaces for respectful interaction and dialogues.
In addition to showcasing a diverse spectrum of films, the festival offers post-screening conversations with filmmakers and writers, as well as Q&A sessions.
On December 15, we invite you to join Cambridge Newcomer Outreach Program (Kinbridge Community Association) for a virtual screening of Nature's Invitation: A documentary about Canada's quest to get new immigrants in touch with nature.
See the movie trailer here: https://brandyyanchyk.com/natures-invitation.
See you there!
https://www.immigrationwaterlooregion.ca/en/business-opportunities/film_festival.aspx#