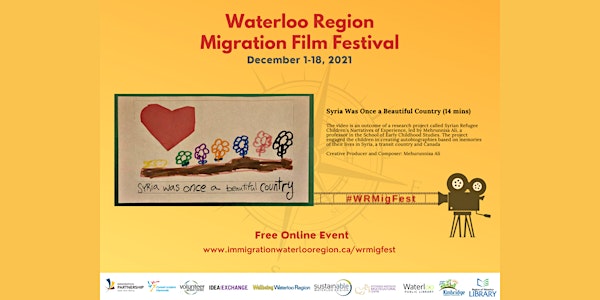 Waterloo Region Migration Film Festival: Syria Was Once a Beautiful Country
2021 Waterloo Region Migration Film Festival: Screening of Syria Was Once a Beautiful Country
About this event
The Immigration Partnership is pleased to announce that it is hosting the 2021 Waterloo Region Migration Film Festival (WRMFF) from December 1st to 18th (International Migrants Day)! The goal of the Festival is to pave the way for greater discussion around migration and relocation, by creating safe spaces for respectful interaction and dialogues.
In addition to showcasing a diverse spectrum of films, the festival offers post-screening conversations with filmmakers and writers, as well as Q&A sessions.
On December 9, we invite you to join Cambridge Newcomer Outreach Program (Kinbridge Community Association) for a virtual screening of Syria was Once a Beautiful Country.
The video is an outcome of a research project called Syrian Refugee Children's Narratives of Experience, led by Mehrunnisa Ali, a professor in the School of Early Childhood Studies. The project engaged the children in creating autobiographies based on memories of their lives in Syria, a transit country and Canada.
"When the war started in Syria, we ran to other countries," a child's voice states, as the video starts. "People always ask grown ups about what happened, but no one asks children," it goes on. "But Mehru, Gina and Nancy asked thirteen of us, what we remembered about Syria, the countries we ran to and our early days in Canada."
What follows is a compilation of children documenting their memories in drawings, words, gestures, and facial expressions, as well as clips of children sharing their memories with each other and the researchers.
Join us!