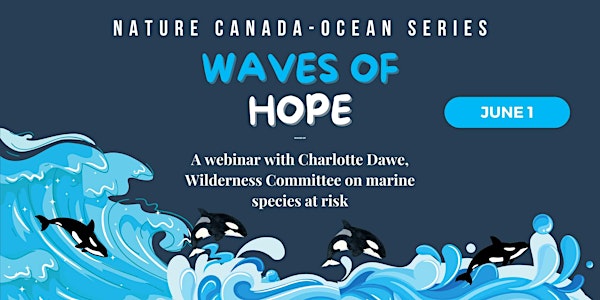 Waves of Hope - Ocean Protection Series by Nature Canada
Join us for the second installment of "Waves of Hope," a webinar series on ocean protection hosted by Nature Canada.
About this event
Join us on Wednesday, June 1st, 2022 from 3-4 PM EST for the second installment of "Waves of Hope" a webinar series on ocean protection hosted by Nature Canada. We will be joined by Charlotte Dawe, Conservation and Policy Campaigner at Wilderness Committee to dive into the topic of marine species at risk.
We cannot survive without the ocean; it provides us oxygen to breathe, puts food on our plates, helps us fight climate change, and supports vibrant coastal communities. Yet, we continue to overexploit and pollute the ocean. We are driving alarming species decline, disrupting diverse ecosystems, and damaging our long-term future.
The vast majority of Canada's oceans are not legally protected, leaving marine species and their habitats vulnerable. As the country boasting the longest coastline on Earth, we aren't doing enough to conserve it.
We can choose a better future for us and for the ocean—one that respects Indigenous rights and supports Indigenous-led visions for marine conservation.
Join us for an engaging webinar on marine species at risk in the context of Canada's oceans!
More about Charlotte Dawe: Charlotte's work focuses on endangered species in Canada and BC. She works on policy related issues that impact wildlife across the country. Charlotte advocates for stronger and more effective laws that hold the governments accountable. She works from the unceded Coast Salish Territories. Working at the Wilderness Committee gives Charlotte a platform to advocate on behalf of our environment and all the amazing wildlife we share this planet with. Before Wilderness Committee, Charlotte worked as a freshwater ecology and climate change researcher, a boreal forest restoration and assessment field technician and overseas to restore degraded coral reefs, re-build communities and care for orphaned wildlife in rehabilitation sanctuaries. Charlotte enjoys snowboarding, boxing, photography, cooking and backcountry camping – one time she was standing 8ft from away from a mamma grizzly bear who was calm and looked her right in the face.
https://www.wildernesscommittee.org/person/charlotte-dawe