Location
Cardel Theatre
180 Quarry Park Blvd SE
Calgary, AB T2C 4J1
Canada
Sales Have Ended
Ticket sales have ended
If not sold out: Tickets at the Door $20 (CASH ONLY)
Description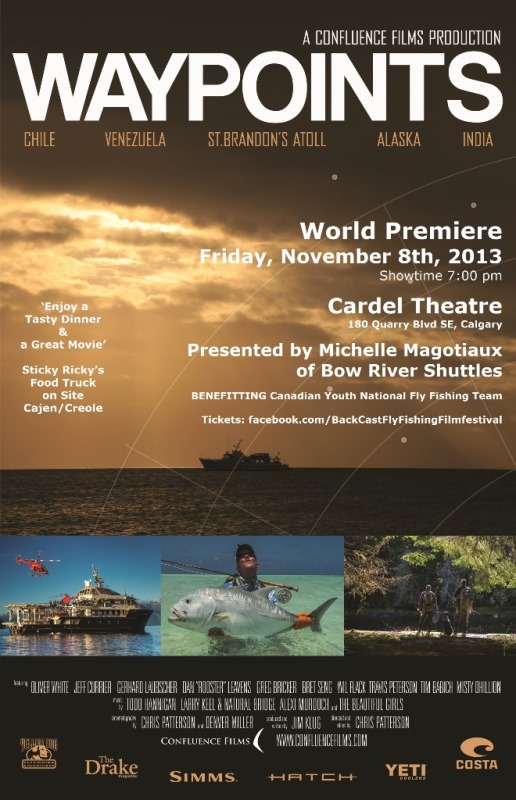 The 'World Premiere' of Confluence Films' fourth fly fishing film - "WAYPOINTS" - will happen on Friday November 08, 2013.

This exciting event is being organized and presented by Michelle Magotiaux of Bow River Shuttles.
What makes this premiere unusual is the fact that it will take place in several dozen different locations and different cities at the same time.
Similar to DRIFT, RISE and CONNECT, WAYPOINTS is a multi-segmented fly fishing film shot all around the world. With segments that include St. Brandon's Atoll in the Indian Ocean, Patagonian Chile, Southeast Alaska for Steelhead, India for Golden Mahseer, and the jungles of Venezuela for payara, WAYPOINTS promises to be Confluence Films's finest, most exotic and most ambitious project ever!
Net proceeds will be donated to the Canadian Youth National Fly Fishing Team.
The Youth Team was also the beneficiary of Michelle's 'Back Cast Fly Fishing Film Festival' this past February. That event raised $1,996 for the team, and in July 2013, they competed in Ireland at the World Youth Fly Fishing Championship.
Bring some extra coin! You might leave with more than you came, thanks to our supporters and sponsors!
Doors open at 5:30 pm. Please come early for a pre-event social gathering
Enjoy a tasty dinner and a great movie! Sticky Ricky's food truck on site. Cajen/Creole food!

Showtime: 7:00 pm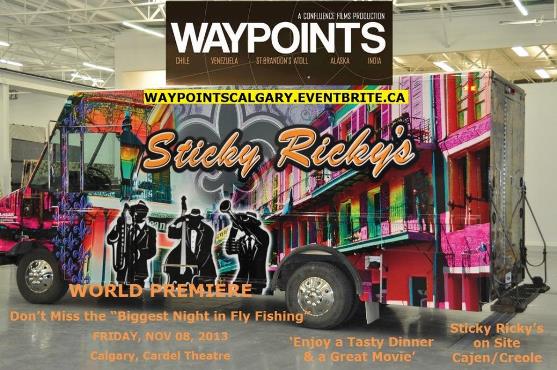 The Cardel Theatre, also the home of Michelle's 'Back Cast Fly Fishing Film Festival', is providing their beautiful theatre free of charge, as they do for similar not-for-profit events. http://cardeltheatre.com/
Cardel Theatre provides their facility free of charge for such events, in return for attendees contributing to the Calgary Food Back. Please bring a food bank donation. We strongly recommend the Safeway $5 or $10 'Care Package' or the $10 Calgary Coop Food Bank Bag.
We will also be accepting donations (cash or cheque) for both the Canadian Youth National Fly Fishing Team and the Calgary Food Bank.
Tickets:
At the door: $20 (cash only)
In Advance: $17 (online only, VISA/MC)
Limited Number of DISCOUNT Tickets ($15 CASH ONLY) available at:
Fish Tales Fly Shop
Country Pleasures Fly Shop
West Winds Fly Shop
Bow River Troutfitters Fly Shop
The Fishin' Hole
Iron Bow Fly Shop
Hanson's Fly Fishing Outfitters
SUPPORT YOUR LOCAL FLY SHOP
Limited seating
Don't be disappointed. Order your tickets today!
1. "Will Call" table for tickets will be just inside the lobby of the Cardel Theatre.

2. Valid photo ID is required for ticket pickup at "Will Call" table.
3. If you fail to pick up your tickets we shall not be responsible for this and your money will not be refunded.
4. Please arrive EARLY for best seat selection, and especially for "Will Call" tickets.
5. As a courtesy to other attendees, latecomers will be seated at the end of the first film.