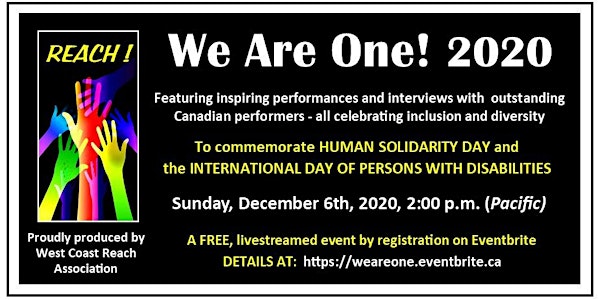 We Are One! 2020
An outstanding, free live-streamed show commemorating Human Solidarity Day and the International Day of Persons With Disabilities.
About this event
Featuring inspired performances and interviews with:
- JACK THOMAS (Canada's one-armed drummer - Vancouver, BC)
- DENA ZAGI (Dena First Nations traditional/contemporary band - Ross River, Yukon)
- MORRY STEARNS (internationally acclaimed singer/songwriter/producer)
- REACH! PERFORMING GROUPS (celebrating inclusion & diversity)
- SKY MUNDELL(blind and hearing impaired jazz pianist - Victoria, BC)
- AFRICADIAN SOUNDS OF GORDI MUNRO (singer/songwriter - New Brunswick)
and more!
THE LINK/S FOR THIS EVENT WILL BE SENT TO YOUR EMAIL ADDRESS
-