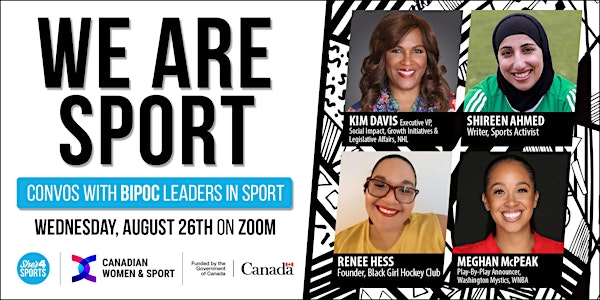 We Are Sport: Diversity & Leadership (26/08/2020)
Canadian Women & Sport and She's4Sports are teaming up to highlight the experiences and voices of BIPOC leaders in the sport sector.
About this event
Français ci-dessous.
Join Canadian Women & Sport and She's4Sports for a conversation about how movements for equity in sport are changing what visionary leadership looks like.
Our panel of experts will share their thoughts and expertise on:
Representation of BIPOC people in sport at the executive level;
The importance of mentorship and building a pipeline of BIPOC leaders in sport;
Diversity policies and how they can support recruitment activities;
How sport organizations can build inclusive environments.
Our panelists are:
Kim Davis, Executive VP, Social Impact, Growth Initiatives, & Legislative Affairs, NHL
Shireen Ahmed, Writer, Sports Activist
Renee Hess, Founder, Black Girl Hockey Club
Megan McPeak, Play-by-Play Announcer, Washington Mystics, WNBA
This will be a Zoom webinar and participants will have the opportunity to ask questions using the chat box. Participants will not be expected to be on video. Please ensure you are logged into the Eventbrite account you used to register in order to access the webinar.
About The Series
Canadian Women & Sport and She's4Sports are collaborating again on a new series, We Are Sport: Conversations with leaders from the BIPOC sport community. The initiative from Ainka Jess, founder of She's4Sports, will address race, inclusion, LGBTQI2S+ advocacy, leadership, and mental health, highlighting the perspectives of sport leaders who identify as Black, Indigenous, and people of colour.
The We Are Sport series features interviews and panel discussions hosted on Wednesdays (July to September) on Instagram Live and Zoom.
We are grateful for the support of Sport Canada in funding this project.
About She's4Sports
She's4Sports is a Toronto-based organization that mobilizes women through digital platforms and events to have a larger voice in sports. The network represents a community of over 4,500 passionate women and men who celebrate the contributions of women in sports and address issues including gender diversity, equity and inclusion in sport.
________
Femmes et sport au Canada et She's4Sports s'associent pour mettre en lumière les expériences et la voix des leaders PANDC dans le domaine sportif.
Joignez-vous à Femmes et sport au Canada et à She's4Sports à l'occasion d'une conversation sur la façon dont les mouvements pour l'équité dans le sport influencent le leadership visionnaire.
Nos spécialistes feront part de leurs réflexions et de leur expertise sur les sujets suivants :
Représentation des PANDC au sein des directions des organisations œuvrant dans le domaine sportif
Importance du mentorat et de l'élaboration d'un bassin de leaders PANDC dans le domaine sportif
Politiques de diversité et façon dont celles-ci peuvent soutenir les activités de recrutement
Façon dont les organisations sportives peuvent créer des environnements inclusifs
Intervenantes :
Kim Davis, vice-présidente exécutive, Répercussions sociales, initiatives de croissance et affaires législatives, LNH
Shireen Ahmed, auteure, militante du domaine sportif
Renee Hess, fondatrice, Black Girl Hockey Club
Megan McPeak, présentatrice, Washington Mystics, WNBA
Cette activité prendra la forme d'un webinaire Zoom, et les participants et participantes pourront poser des questions à l'aide de la fonctionnalité de clavardage et n'auront pas besoin d'activer leur caméra. Pour accéder au webinaire, connectez-vous au compte Eventbrite que vous avez utilisé pour vous inscrire.
À propos de la série
Femmes et sport au Canada et She's4Sports font équipe une fois de plus pour proposer une nouvelle série : Nous sommes le sport : Discussions avec des leaders NAPC dans le milieu du sport. Lancée par Ainka Jess, la fondatrice de She's4Sports, cette initiative portera sur les questions de la race, de l'inclusion, de la défense des droits des LGBTQI2S+, du leadership et de la santé mentale en présentant les points de vue de leaders dans le sport qui sont Noirs, Autochtones et des personnes de couleur (NAPC).
La série Nous sommes le sport comprend des entrevues et des discussions en groupe les mercredis (juillet à septembre) sur Instagram Live et Zoom.
À propos de She's4Sports
She's4Sports est un organisme torontois qui mobilise les femmes grâce à des plateformes numériques et à des événements afin que leurs voix résonnent davantage dans le monde du sport. Le réseau réunit plus de 4 000 femmes et hommes passionnés qui célèbrent la contribution que les femmes apportent au sport et se penchent sur des enjeux comme la diversité de genre, l'équité et l'inclusion dans le sport.