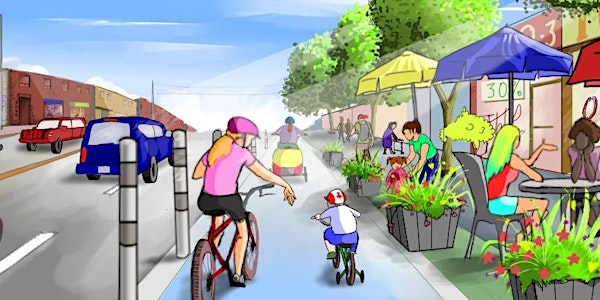 We Belong On Bloor
We Belong On Bloor: Bloor Bike Lane extension COMMUNITY MEETING
About this event
Join us for a COMMUNITY MEETING on extending the Bloor bikeways from Runnymede to The East Mall.
Toronto Community Bikeways Coalition (TCBC) is a community-based campaign group advocating for 100 km of bikeways to mirror the busiest TTC subway and bus routes. It was initially formed by a group of volunteers who believe Torontonians require safe alternative transportation options, particularly during this unprecedented time as our society grapples with the COVID-19 pandemic and the Climate Emergency.
We are urging the City of Toronto to extend the Bloor bike lane westward - along Bloor and contiguous Dundas Street to The East Mall - by improving the streetscape and making it safe for all road users by setting lower speed limits, narrowing motor lanes, adding greenery, and installing bicycle lanes.
The successful implementation of Destination Danforth in 2020 demonstrated the potential of our public streets as places for people – to stroll with family or friends, to safely ride a bicycle to work or for leisure, or to enjoy a meal or a coffee on a patio. ActiveTO and CafeTO dramatically changed the way we share our roads to address the social distancing imperative of the pandemic, while striving to build a healthier, more equitable and resilient city.
A re-designed Bloor (and Dundas West) allows the city to fulfill existing policies, including the Vision Zero Road Safety Plan, which prioritizes human life in transportation decision-making; Complete Streets, which aims for a balanced use of public space among travel modes; and TransformTO which seeks to convert car trips into active modes to reduce emissions that damage our climate.
We urge City Council to move forward now on converting Bloor and Dundas Streets from thoroughfares to safe, inviting roads that support vibrant commercial areas, healthy neighbourhoods, and opportunities for active transportation.
Format of the evening:
7-7:30 presentations
7:30 - 8:30 questions
MC - Janet Joy Wilson, founding member TCBC
Guest speakers:
The 30-year history of bike lanes on Bloor - Albert Koehl, Bells on Bloor
The safety, business, climate benefits of bike lanes - Guillermo (Gil) Penalosa, Ambassador of World Urban Parks, Founder of 8 80 Cities, founder Our Third Act, Older
Community perspective - Christopher McGarrell, ManDemCC
Community perspective - Robyn Kalda, Bloor West Residents Association
Community perspective - Paul Taylor, Educator, Leader, & Activist (video message)
Councillor Gord Perks (video message)
Councillor Mark Grimes - invited by email & telephoned / no response
Cycling and Pedestrian Unit - invited / declined
More information on our website: https://www.communitybikewaysto.ca/bloor-west-dundas
We acknowledge the land we live and ride on is of the traditional territory of the Mississauga of New Credit, the Anishinaabe, the Haudenosaunee, and the Huron Wendat. Today, the meeting place of Tkaronto (Toronto) is home to many indigenous people from across Turtle Island, and we are grateful to be on this land.