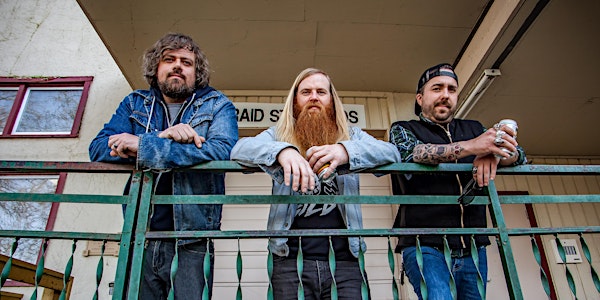 We Hunt Buffalo with guests, Bort, Becky Black, and Stone Tortoise
Performers
We Hunt Buffalo
Bort, Becky Black, Stone Tortoise
Location
Rickshaw Theatre
254 E. Hastings Street
Vancouver, BC V6A 1P1
Canada
We Hunt Buffalo live at the Rickshaw Theatre! With guests Bort, Becky Black, and Stone Tortoise.
About this event
The Rickshaw presents We Hunt Buffalo
With guests, Bort, Becky Black, & Stone Tortoise
Friday, October 22nd, 2021
The Rickshaw Theatre
19+
Doors: 7:30pm
Get ready for a night of dirty, grimy, fuzz rock at the Rickshaw with Vancouver's suburban stoner rockers We Hunt Buffalo! With special guests psychedelic Doom Metal four piece, BORT, the new solo project of Becky Black (of The Pack AD), and Kelowna psych rockers Stone Tortoise!
We Hunt Buffalo
We Hunt Buffalo create songs with hard hitting, fuzz rock grooves and psychedelic overtones. It's a culmination of many years playing music together in a small suburb of Vancouver, Canada.
"Not only do Vancouver's We Hunt Buffalo have an arsenal of riffs so endorphin-releasingly huge you'll be wanting to take on wild beasts with your bare hands for suitable sacrifice, their new album, Living Ghosts soars into lush, psychedelic territories that suggest its exhilarating, aerated grooves were composed whilst riding a pterodactyl" – Metal Hammer
We Hunt Buffalo Online:
Website // Bandcamp // Facebook // Twitter // Instagram // YouTube
Bort
Deep desert grooves drenched in the gloom of the Pacific Northwest.
Bort Online:
Website // Bandcamp // Facebook// Instagram // YouTube
Becky Black
Becky Black has had the same year and a half we've all had. As ½ of long-running legendary Vancouver duo The Pack A.D, she'd become used to spending her nights on stages behind microphones and monitors and amplifiers and her days driving from city to city. The Covid-19 pandemic pumped the brakes on a lot of things for us all, creating a great equalization where we all ceased to live our lives and job our jobs the way we used to. As an unprecedented fog of uncertainty fell upon us, we all reacted in our own ways. Baking or yoga or banging on cast iron pans in the street. Becky Black had a better plan to work through the anxious weight, creating her debut solo record - Natura Obscura
Becky Black Online:
Stone Tortoise
Kelowna based stoner psych rock band.
Stone Tortoise Online:
Supported by FACTOR
This project has been made possible in part by the Government of Canada. Ce projet a été rendu possible en partie grâce au gouvernement du Canada.
More info: www.factor.ca
Refund Policy
No Refunds, unless show is cancelled.