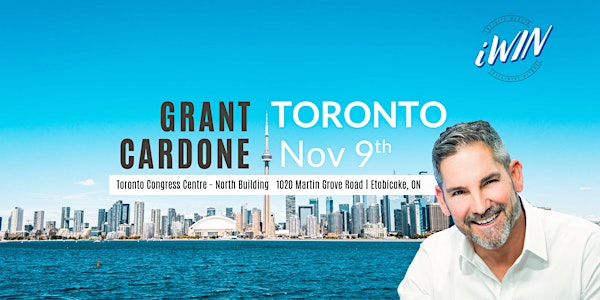 Wealth Hacker Conference - Grant Cardone in Toronto
Date and time
Sat, Nov 9, 2019 9:00 AM - 5:00 PM EST
Location
Toronto Congress Centre - North Building 1020 Martin Grove Road Etobicoke, ON M9W 1J1 Canada
Description
The iWIN Wealth Hacker Conference is the one place where ambitious people from all over Canada and the US will gather to discover new opportunities and strategies to grow wealth, exchange ideas, plan for the coming year and network with like-minded individuals.
Here is a sneak peak at the experts and the secrets they are sharing on November 9th and they are:
An entrepreneur sharing how they started a business from zero to the Profit 500, the top 500 fastest growing companies in Canada and they made the list the last three consecutive years: Tom and Nick Karadza

Two investor are sharing how they hacks stock option investing: earning six figures per year in only 30 mins/day that helped them buy a combined 40+ properties: Omar Khan and Matthew Todman, CA, CPA, CFA

A tax hacker, the most in demand Real Estate Accountant to share the government incentives and secret strategies employed by the rich, Cherry Chan CPA, CA;

An investor who was able to take three years off work by offering out private mortgages and collecting interest payments: Jay Gabrani

An investor who left their high level government job as the CMHC apartment building underwriter behind to buy 22 million worth of apartment buildings: Pierre-Paul Turgeon

An elite business coach, she was selected as the 1st coach to represent Canada with the #1 international coaching organization, where she ranked as the top Business Coach out of 200 coaches all 4 years of her being there, Erwin's own personal coach MaryAnne Gillespie

An investor who has acquired over 100 investment properties sharing how he used other people's money. He even wrote the best selling book on the subject: JV Jedi Russell Westcott;

An investor who is the leading expert at the #1 value add strategy in residential real estate, Andy Tran;

A real estate entrepreneur, who has interviewed over 100 of the best investors in Canada, four time real estate agent of the year to investors sharing the best practices of getting started as an entrepreneur and investor to become a wealth hacker.

Finally, Grant Cardone, a New York Times bestselling author, the #1 sales trainer in the world, and an internationally renowned speaker on leadership, real estate investing, entrepreneurship, social media, and finance.
This conference will provide you with the actionable information you need to help you build significant wealth. This is a 100% 'value add' conference, not a place for speakers to pitch and sell from the stage. Each presentation will provide deep insights and strategies that can be used immediately.
Buy your tickets TODAY before the next price increase or your ticket level sells out!!
About the organizer
Erwin and Cherry have a similar story to most people.  They studied hard in school, went to university, graduated and got good jobs, but they could barely afford what they had.  There was no money left after car payments and mortgage payments for savings let alone retirement and they didn't have pensions. Where did they go wrong? They did everything their parents said to do.
Erwin and Cherry have degrees in Business and Accounting respectively but they were not financially educated.  Erwin then started investing in real estate in 2006 and so did Cherry after they met on Match.com in 2011. It didn't all go smoothly but they read lots of books, took many courses on Sales, Marketing, Investing; and tested it all on with their own businesses and investment portfolio. Since then, they have been sharing their knowledge with friends, family, and local entrepreneurs the benefits of investing in real estate, taking advantage of government incentives for small businesses and investments.
In 2014, they started what later became iWIN (Infinity Wealth Investment Network), the premiere members only network for entrepreneurs with an investment focus in the greater Toronto area. iWIN meetings have been attended by hundreds and the next step in their growth is to 10X and host a couple thousand attendees at the Nov 9th, Wealth Hacker Conference at the Toronto Congress Centre (North Building).
Erwin and Cherry are on a mission to help everyday people from the GTA make more money, become wealth hackers so they can work less, vacation more, retire earlier, give back to their communities. Erwin via his award winning business, iWIN Real Estate has already resulted in 15 real estate millionaires as a direct result of their income properties and has been awarded Realtor of the Year to Investors in 2015, 2016, 2017, and 2018. Erwin was named Top 20 Influencer in Canadian Real Estate, his podcast is #26 for Investing on iTunes and downloaded 10,000+ per month, and Top 40 Under 40 in his community (Hamilton).  Website: http://www.truthaboutrealestateinvesting.ca/
Cherry is an author, a blogger, a Chartered Professional Accountant to entrepreneurs and real estate investors, she graduated on the Honour Roll for Accountants, top 50 in all of Canada her graduating year, and was named "Top 50 Women in Accounting" globally in 2018. She owns double digit investment properties and she is a high in demand speaker for her Accounting knowledge as it relates to investing, small business and especially real estate. Website: http://realestatetaxtips.ca/
That's a tiny bit of their story and we hope you enjoy all they have to share with the world on the subject of wealth hacking!!