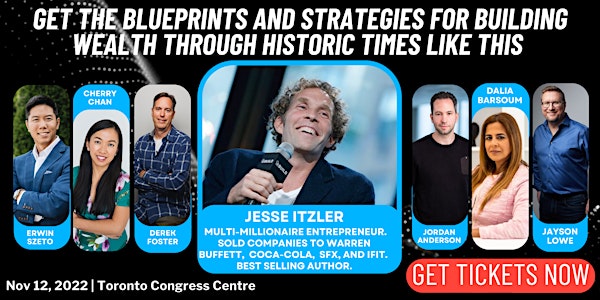 Wealth Hacker Conference - Toronto
The Wealth Hacker Conference is the one place where ambitious people from all over Canada gather to discover new opportunities
When and where
Location
Toronto Congress Centre - North Building 1020 Martin Grove Road Etobicoke, ON M9W 1J1 Canada
About this event
Dear Hardworking Canadian,
"What Are You Doing To Take Back Control and Ownership Of Your Financial Future in these UNCERTAIN times?"
We can no longer deny that we are truly in UNCERTAIN TIMES…
It's in almost every headline these days….
Cost of living has become higher…
Inflation is gradually reaching peak levels…
Food and gas prices have gone up significantly…
Rents are at historic highs…
Stock Market is down more often than not…
Interest rates are going up FAST in a bid to fight inflation…
And it all points to ONE THING…
We are heading into a bad RECESSION!
The big question is…
What Are You Doing To SECURE YOUR FINANCIAL FUTURE in these UNCERTAIN times?
This isn't meant to scare you…
The economy will always ebb and flow…
But if you do not TAKE ACTION, you may get swallowed up in the impending financial frenzy.
HOW CAN YOU PREPARE FOR WHAT'S COMING NEXT?
SHORTCUT: BECOME A WEALTH HACKER!
Who's a Wealth Hacker?
A Wealth Hacker is one who use smart, efficient strategies to earn, save, invest, and protect their finances so they can achieve financial independence as rapidly as possible.
Our BIGGEST REASON for hosting the Wealth Hacker Conference 2022 is TO PREPARE YOU for what's coming by:
Sharing wealth-building strategies and connections YOU can use to build wealth in preparation for the recession…
Arming YOU with wealth-building tools, resources and blueprints needed to eliminate any form of financial fear and worry despite everything happening in our world today!
Helping YOU build financial confidence and security and ultimately achieve FINANCIAL FREEDOM…
Turning YOU into the successful Wealth Hacker you were meant to be!
And that's why the Wealth Hacker Conference is a MUST-ATTEND if you want to prepare and take advantage of what's coming next!
MEET YOUR EXPERT SPEAKERS
Jesse Itzler
From sleeping on 17 different couches at the start of his entrepreneurial journey to accumulating a net worth of over $200 million, Jesse Itzler has built a reputation worthy of repute as an accomplished and serial entrepreneur.
Starting out as a frat boy rap star, he created trademark songs like "Go NY Go," the official theme song for New York Knicks, amongst others.
Then, he founded his own record company, Alphabet City Sports Records, in 1996, which was later acquired for $4.3M in cash and stock.
He then founded his private jet company, Marquis Jet, which he eventually sold to Warren Buffett's NetJets, Sheets Energy Strips and was a partner at Zico Coconut Water which Coca-cola later acquired.
He's also the co-owner of the Atlanta Hawks NBA team, a New York Times Best Selling Author and has competed in hundreds of ultramarathons.
On top of all that, Jesse is married to the billionaire creator of Spanx, Sara Blakely, and they have 4 kids together.
His life's mission is to seek success in MULTIPLE buckets of life: business, adventure, mindset, health and wellness.
Jesse will share how to build your life resume, his experience, and his biggest lessons from his month of living and extreme fitness training with a Navy SEAL.
Derek Foster
Do you know anyone who is positive on the year while every benchmark, index and fund manager is down 10-40%?
Well, Derek Foster, 6X best-selling author is.
Derek's been retired for almost 20 years with just stock and option investing. He's typically known as Canada's Youngest Retiree as he retired for good at the age of 34.
Derek never wanted the typical 9-5 lifestyle; he did not want to be in any corporate trap, so he he researched and read everything he could get his hands on about investing.
Eventually, he figured out his system by implementing a simple investment strategy combining the teachings of Ben Graham, Warren Buffett and Peter Lynch.
He applied this knowledge to a Canadian perspective, taking into account Canadian investment options and tax considerations and said GOODBYE to the rat race forever!
Derek is also a bestselling author with five national bestselling books, including:
STOP WORKING: Here's How You Can
The Lazy Investor: Start with $50 and no Investment Knowledge
Money for Nothing: And Your Stocks for FREE
STOP WORKING Too: You Still Can
The Idiot Millionaire.
He believes that by following common-sense strategies that focus on recession-proof stocks in companies that produce products people need, even an ordinary person can be in a position to retire early.
Derek will be sharing these common sense strategies with us at the Wealth Hacker Conference, including how he retired and, more importantly, stayed retired, creates enough cash flow to support his wife and eight kids and completely beat the market.
Jordan Anderson
Cryptocurrency is the future of money and has proven to be highly profitable. These digital currencies are transforming our perception of money and challenging financial institutions.
In true Wealth Hacking fashion, we all need to learn the secrets of crypto trading and get the knowledge required to secure our financial futures with cryptocurrency, even in this current climate.
There are many crypto experts out there but we did nit want just anyone… We wanted the best of the best…
So we chose Jordan Anderson, the Chief Operating Officer of Bitbuy, the first regulated Canadian cryptocurrency exchange to share his extensive knowledge at the Wealth Hacker Conference.
Bitbuy has 375,000 Canadian clients and facilitated $4.4 billion in transactions. Bitbuy recently sold to Shark Tank star Kevin O'Leary's company WonderFi Technologies Inc for $206 million.
Jordan will be sharing at the Wealth Hacker Conference his journey as an entrepreneur from a startup in the cryptocurrency space to now a massive, successful exit.
As a leading Canadian cryptocurrency expert, Jordan will explain what the Blockchain is, why and what he will be investing in on the dip.
Dalia Barsoum
Dalia Barsoum is the founder of Streetwise Wealth, a boutique real estate wealth advisory firm and Streetwise Mortgages, a multi-award winning brokerage specializing in income property financing. Streetwise Mortgages is known as Canada's #1 small markets broker (AKA rental markets) as ranked by Canadian Mortgage Professionals.
The team at Streetwise Mortgages has funded over 1 billion dollars of mortgage volume and over 2700 of mortgage transactions ranging from residential, multi family, mixed use and other construction projects.
Dalia is the best-selling author of Canadian Investor Financing: 7 Secrets to Getting All The Money You Want, a columnist for Canadian Real Estate Wealth magazine and has been recognized as a Global 100 mortgage professional, one of Canada's top 10 brokers and a woman of influence.
Through strategic real estate financing advice, sophisticated deal structuring solutions and access to understanding of all the money tools and capital structures investors use to grow (private money, traditional mortgages, alternative mortgages, GP/LP structures, corporate capital structures and joint ventures), Dalia and her team have helped thousands of Canadians kick start their real estate investment journey and take their portfolios to the next level while managing risk.
Dalia will share how to qualify for unlimited mortgages.
Erwin Szeto
Erwin is a serial "investopreneur," the co-founder of the Wealth Hacker Conference, previously headlined by Grant Cardone and attended by almost 1,600 people.
He is the founder of the Stock Hacker Academy, an educational program for non-finance people to learn to sell stock options and iWIN real estate (short for Infinity Wealth Investment Network), a membership group of like-minded real estate entrepreneurs and a team of veteran real estate coaches, who teaches hardworking Canadians how to invest for cash flow.
Their efforts were awarded four consecutive years as Real Estate Agent of the Year to Investors, Top 40 Under 40, and Real Estate Investment Community Leadership Award 2X.
Erwin also has a Top 100 Business Podcast (per iTunes) and has been named one of the top 20 influencers in Canadian Real Estate.
He is the President of the Hamilton Basket Brigade, a registered charity that hosts kids' parties and gifts warm clothes, toys, and food to the least fortunate local families at Easter, Thanksgiving, and Christmas since 2014.
Erwin will share how he's used real estate to build generational wealth, so we may use the same systems to multiply our wealth.
Cherry Chan
Cherry Chan is an author, blogger and Chartered Professional Accountant to entrepreneurs and real estate investors for over 8 years.
She was named "Top 50 Women in Accounting" globally in 2018. She has been a real estate investor for over 10 years and owns double-digit investment properties. Cherry is in high demand as a speaker for her tax knowledge related to investing, small businesses and especially real estate.
Armed with a mission to be the Google map for hardworking Canadians seeking financial freedom, Cherry will be sharing her knowledge and expertise in Canadian taxes, including strategies to minimize taxes and maximize income.
Jayson Lowe
Jayson Lowe is recognized as one of Canada's top overall Advisors, author of several publications, and co-author of The Bankers' Secret, a Simple Guide to Creating Personal Wealth for Canadians.
He has delivered hundreds of presentations to the general public and appeared on countless stages and interviews. He is internationally recognized as one of the leading educators and implementers of Becoming Your Own Banker, The Infinite Banking Concept.
Jayson is a Chartered Life Underwriter and an Authorized Infinite Banking Practitioner. He has been in the life insurance industry for more than 11 years, educating clients, and personally practicing the Infinite Banking Concept for over a decade.
If you live in Alberta or Ontario, you've likely heard Jayson being interviewed on Success Magazine, Global AM 740, Equitable Life of Canada, to name just a few.
Jayson is also a Top of the Table Member of the Million Dollar Roundtable, the most prestigious association of Financial Professionals in the world.
When he's not helping people achieve financial prosperity in their personal and business lives, Jayson enjoys being a dad to his four kids and spending quality time with his entire family and dear friends.
Jayson will share how to become your own banker and practice the Infinite Banking Concept.
Do you know how much you'd have to pay for a session with Jayson Lowe? Certainly way more than the cost of your Wealth Hacker Conference tickets.
OUR GUARANTEE…
We GUARANTEE that when you attend the Wealth Hacker Conference 2022, live and In-person in Toronto, you'll experience your BIGGEST AHA MOMENT that will immediately turn your finances around!
You'll leave the conference with at least TEN SOLID CONNECTIONS, that will transform your business and life forever!
DON'T JUST TAKE OUR WORD FOR IT… CHECK OUT WHAT WEALTH HACKER CONFERENCE 2019 ATTENDEES HAD TO SAY…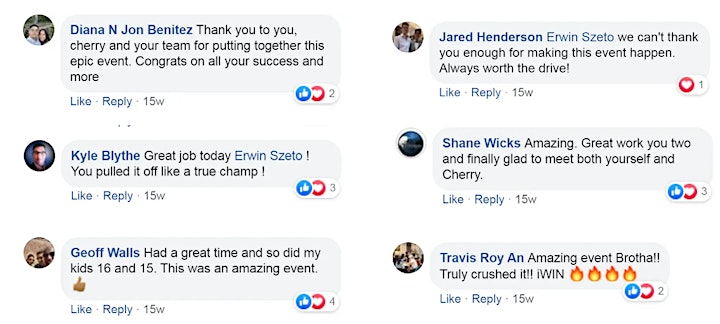 ARE YOU READY TO BECOME A WEALTH HACKER?
GET YOUR TICKETS NOW!!!
**By purchasing an in-person ticket, you agree to our COVID policy**