"Weapon of War" - Sexual violence against women in the Congo
Description
Weapon of War
Screening and discussion with the filmmakers
The Montreal Institute for Genocide and Human Rights Studies at Concordia University in collaboration with the Human Rights Research and Education Centre at the University of Ottawa will feature "Weapon of War" , a documentary by Ilse and Femke Van Velzen on sexual violence against women in the Democratic Republic of the Congo.
During the DRC's seven year war, more than 80.000 women and girls were raped. In the critically-acclaimed documentary "Weapon of War" military perpetrators unveil what lies behind this brutal behavior and the strategies of rape as a war crime.
The screening will be followed by a discussion with director and producer Femke Van Velzen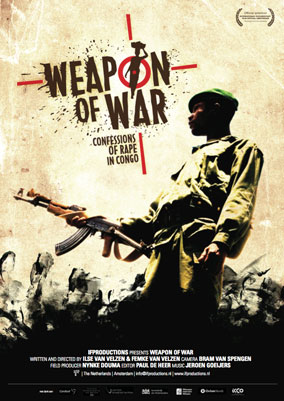 Trailer
For'more'information'on'this'documentary'see: http://www.weaponofwar.nl
Please note that this event is also taking place within the 16 Days of Activism Against Gender Based Violence, an international campaign which calls for the elimination of gender-based violence by raising awareness at the local, national, and international levels.
This screening is made possible through cooperation with the University of Ottawa, the Kingdom of the Netherlands, IFPRODUCTIONS, MIGS, Concordia University, the University of Ottawa and the Amnesty Internal dtudent club at Concordia University.
The event is free and open to the public but donations are welcomed
Synopsis
In recent decades, the Democratic Republic of the Congo has been plagued by many bloody conflicts between government leaders and rebels, leading to thousands of civilian victims. One of the horrors of these conflicts is the mass rape of women by soldiers: an estimated 150,000 women and girls have fallen victim to this crime. In Weapon of War, a number of soldiers and former soldiers tell their stories. Many of them are speaking about the atrocities they have committed for the very first time, and they are hardly able to acknowledge what they have done. "The army works with orders. There is no mercy," one of them explains. Others are tormented by a great burden of guilt, as they realize they have behaved like animals. Army captain Basima has decided to set up an information campaign and talk to soldiers throughout the country about their actions, in an attempt to break the vicious circle of sexual violence. One former soldier agrees to be confronted by the girl he raped while he was serving in the military. Another confesses in front of a full church and asks the congregation for forgiveness. The road to self-awareness and reconciliation is clearly a long and painful one.
Ilse and Femke VAN VELZEN: Directors and Producers
Since 2002 are Ilse and Femke van Velzen as independent filmmakers specialised in operating, producing and directing documentaries under their own label IFPRODUCTIONS.
Through their films Ilse and Femke give oppressed people a voice in order to expose injustice (in developing countries) to a worldwide audience. Amongst the films they have made are "Bush Kids", "Return To Angola", "Fighting the Silence" and most recently "Weapon of War".