Web conference for Internationally Educated Engineering Professionals
Are you an internationally trained Engineering professional? Looking to start your career in Canada? Join this FREE web conference!
About this event
Canadian Immigrant and ACCES Employment proudly present a free one-stop web industry-specific virtual web conference series connecting newcomers with information and inspiration as you settle into your new home.
Broken into three parts, this web conference for Internationally Educated Engineering Professionals will feature speakers who are experts in their fields, speaking to you from across Canada with the goal to help you succeed on your chosen path.
Session Topics:
1:00pm (EST): The P.Eng. Licence: How OSPE Supports Your Journey
The presentation delivered by the Ontario Society of Professional Engineers will speak briefly about the regulatory bodies that exist in Canada and will then provide a quick overview of the steps to obtaining a P.Eng. designation in Ontario with a focus on the OSPE supports available to Ontario's IEGs in this journey.
1:30 (EST): How do you overcome the unique communication barriers Engineering professionals face in Canada?
In this session, Rezaul Helali will present Engineering Connections program delivered by ACCES Employment, which includes program contents, eligibility criteria, registration process, and job search support during and after the program. This presentation will also cover some tips and tricks for engineering job search, which Rezaul learned over the period.
2:00 (EST): Enhance your digital skills in the new normal
Digital readiness in the new normal. Concerned about the sudden new developments in the market? Unsure about how to make your next move? Be it a student entering the professional market, a professional seeking to upgrade your skills, or an entrepreneur wishing to grow your business in, the need to upgrade your digital skills and stay competitive are more acute than ever. Join our Webinar to: Grow your business, reach new clients or jump-start your career – all from your home! Learning outcomes:
ACQUIRE the Digital Skills to Thrive in the New World
UPGRADE Your Presence on FB, LinkedIn, YouTube, Instagram
DRIVE Digital Transformation in Your Organization
CREATE Highly Relevant and Value-filled Content
DEVELOP Your Online Identity and Master Virtual Networking
GENERATE More Targeted and Higher-Quality Leads
ENHANCE Conversions and Engagement
INCREASE Sales and Engage More Customers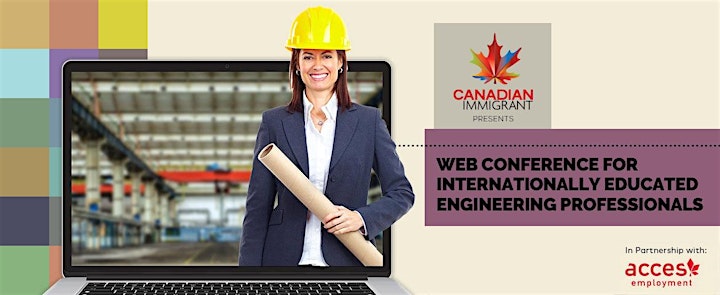 Organizer of Web conference for Internationally Educated Engineering Professionals
The mission of Canadian Immigrant is to be the world's number one online and print resource for Canadian immigrants by helping them to settle in Canada successfully as they move through their immigrant journey. 
Our publication strives to appeal to all immigrants regardless of their ethnicity, sharing knowledge and providing inspiration in a positive manner. Our content is comprised of success stories of immigrants who have faced adversity and triumphed. Our hope is these stories will inspire you in your own journey. We also have columns from experts in fields such as immigration law, banking, careers and real estate. Our mission is to inform and inspire every immigrant, whether they are planning to immigrate, are brand new to the country and are going through the early years of settlement or have been here for several years and are now looking for the next steps in their evolution.