Multiple Dates
**Web Conference on real estate investment in Thailand and Southeast Asia**
*** Web Conference - 13% net return - Real estate investment in Southeast Asia ***
About this Event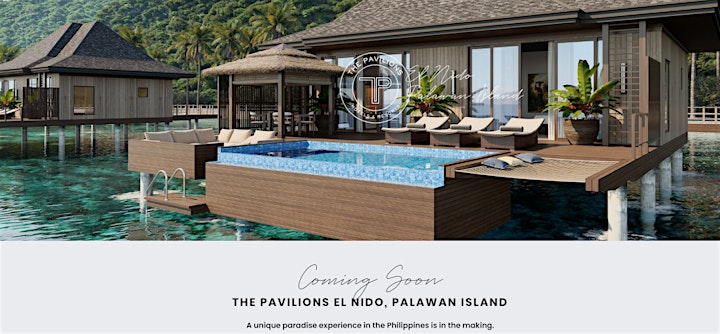 DISCOVER STUNNING SEA VIEW PROPERTIES from our "The Pavilions EL NIDO, Palawan Island" program with 10% NET RETURN over 5 years and 120% BUYBACK OPTION !
You want to know more? Register for our free weekly web conference this Sunday, November 15, 2020.
Luxury Philippines development, The Pavilions El Nido, Palawan Island, has revealed impressive leasehold sales figures. Half of the 66 off-plan villas and over-water suites in phase one are already reserved, with the full complement of 96 units on target to sell-out before the close of this year. The resort will be fully operational in early 2022.
Rick Lee, CEO of the development company, said: "Serious real estate investors have held their nerve during a globally challenging year and are finding the confidence to invest in a future-proof project such as The Pavilions El Nido, Palawan Island. As a fully-managed resort, this is a passive investment and buyers will receive guaranteed annual rental returns, four weeks' free personal usage each year, The Pavilions Hotels & Resorts owners' global benefits, and the option of a buy-back – with uplift. It's a compelling investment case, we are on target to have all 96 units sold within the next few months."
"The Pavilions El Nido, Palawan Island is purpose-built to suit a post-pandemic era," continues Rick. "All our units are detached, sit on their own plot, and feature private swimming pools and private kitchens, so guests can holiday in splendid isolation should they so desire. Meanwhile, life at El Nido centres on the outdoors and very unique experiences including – snorkeling, diving, and walking, plus our own on-site Adventure Park – reconnecting visitors to unspoiled nature. It's the perfect antidote to a backdrop of being kept indoors for extended periods."
Indeed, the Philippines has been a hotbed of tourist investment over recent years, fueled by consistent growth in international and domestic visitors. In 2019, foreign arrivals rose by 15.24% to 8.26 million.
THE CONFERENCE WILL BE HELD IN ENGLISH
Link to participate for free in the Zoom conference: https://us04web.zoom.us/j/3934784236?pwd=UkpNQi84UE9BTE5IRFhaejNaN0t5QT09
9:00 am - Los Angeles, Vancouver(PST) (UTC−8)
12:00 am - Cancun, Miami, New York(EST) (UTC−5)
1:00 pm - West Indies(AST) (UTC−4)
5:00 pm - London, Senegal(GMT) (UTC)
6:00 pm - Paris, Brussels, Geneva (UTC+1)
8:00 pm - Moscow, Qatar (UTC+3)
9:00 pm - Mauritius (UTC+4)
12:00 am - Bangkok (UTC+7)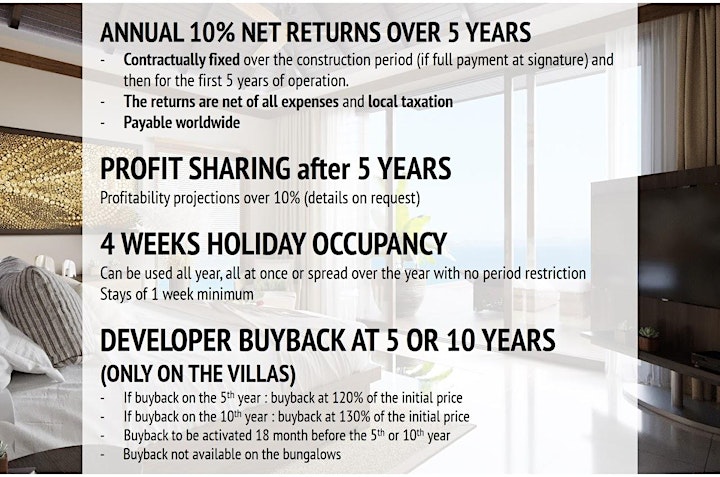 LUXURY PHILIPPINES DEVELOPMENT ON COURSE FOR 2020 SELL-OUT
One bedroom villas of 60m² at $ 239,000
Over-water bungalows of 80m² at $ 376,000
2 bedroom villas of 120 sqm at $ 469,000
SPECIAL OFFER, INVEST FROM $ 119,500! For half the price on 1 bedroom villas, invest in co-ownership with another investor!
Program sold at more than 50%: more than a few units available under these conditions!
100% payment option on signing: capital remunerated at 10% net p.a. over the construction period until 2022
Installment payment option: 25% signature - 10% at 6 months, 10% at 12 months, 5% at 18 months, 50% on delivery (without remuneration of the paid-up capital over the construction period)
Rental income contractually fixed at 10% net p.a. for 5 years until 2027 (quarterly payments in advance on an account anywhere in the world)
Buy back option at 120% of the amount invested after these 5 years
30 days of holiday occupancy (10 days for the offer with 2 investors per villa)
The management contract is now signed: the high-end hotel management group "The Pavilions" will take care of the hotel management of the program. With several luxury hotels in Europe and Asia, the Pavillions is a guarantee of success for the hotel, which will open its doors in early 2027. The Pavillions is an international brand that has upscale hotels in Rome, Amsterdam, Madrid, Lisbon, Phuket, Bali and even Mongolia and Nepal.