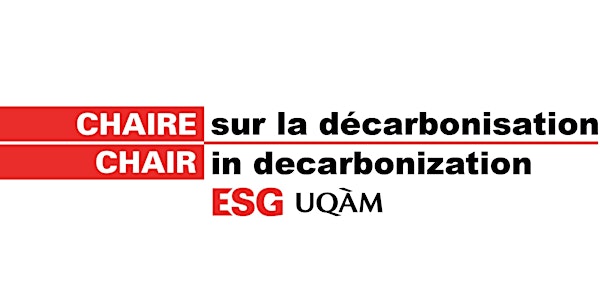 Wébinaire: Les réponses de Fondaction et de la SOFIAC au défi climatique
La cinquième d'une série de webinaires organisée par la Chaire / The fifth of a series of webinars organized by the Chair
About this event
[English follows]
Conférenciers: Minh Nguyen, Responsable de la recherche, Fondaction CSN et Gabriel Desmarais, Directeur des opérations chez la SOFIAC
Minh Nguyen et Gabriel Desmarais expliqueront comment leurs deux organisations répondent au défi climatique.
Minh Nguyen détient un doctorat en études politiques de l'Université d'Ottawa. Depuis plusieurs années, ses recherches tournent autour des causes des inégalités sociales et économiques, du phénomène des travailleurs pauvres, de la question de la justice environnementale ainsi que sur celle de la mise en place d'une économie inclusive et faible en émission carbone. La Fondaction est le fonds de la Confédération des syndicats nationaux (CSN) pour la coopération et l'emploi.
Gabriel Desmarais travaille dans le secteur de l'efficacité énergétique depuis plus de 10 ans. En plus d'avoir développé une solide expérience technique et financière dans le développement et la mise en œuvre de projets, il a développé une expertise particulière dans l'utilisation de contrats de performance énergétique, et ce, tant dans les secteurs privé que public. Il se spécialise tout particulièrement dans les montages financiers adaptés aux projets d'efficacité énergétique, dans les processus d'appel d'offres et dans l'élaboration de contrats.
La Chaire sur la décarbonisation à l'ESG-UQAM vise à améliorer la compréhension des conditions sociales, économiques et politiques favorisant la décarbonisation, tant dans les pays développés que dans ceux en développement, afn de catalyser la coopération mondiale sur les changements climatiques. Ses axes de recherche sont: (1) L'évaluation de l'effcacité des mesures de décarbonisation dans les secteurs de l'énergie, des transports et de l'affectation du territoire; (2) L'économie politique comparée de la décarbonisation; et (3) La mesure du progrès de la coopération régionale et internationale sur les changements climatiques.
Notez que ce webinaire Zoom est un effort pour rendre accessible à un public plus large un séminaire qui se tient à l'ESG-UQAM à Montréal. Pour participer au webinaire, une inscription via Eventbrite est obligatoire mais aucun paiement nécessaire. Un lien hypertexte Zoom et un mot de passe pour accéder à l'événement sera envoyé par courrier électronique.
Ce webinaire se déroulera en français.
Pour plus d'informations, veuillez contacter la Chaire à l'adresse électronique suivante : decarbonisation@uqam.ca.
**********
Speaker: Minh Nguyen, Research Officer, Fondaction CSN & Gabriel Desmarais, Director of Operations, SOFIAC
Minh Nguyen and Gabriel Desmarais will explain how these two organizations are responding to the climate challenge.
Minh Nguyen holds a PhD in political science from the University of Ottawa. For several years, his research has focused on the causes of social and economic inequalities, the phenomenon of the working poor, environmental justice and the development of an inclusive, low-carbon economy. Fondaction is the fund for cooperation and employment of the Confédération des syndicats nationaux (CSN), one of Quebec's largest trade union.
Gabriel Desmarais has worked in the energy efficiency industry for over 10 years. In addition to having developed a solid technical and financial experience in the development and implementation of projects, he has developed particular expertise in the use of energy performance contracts, in both the private and public sectors. He specializes in particular in financial packages adapted to energy efficiency projects, in tendering processes and in contracts development.
The Chair in Decarbonization at ESG-UQAM aims to improve understanding of the social, economic and political conditions favoring decarbonization, both in developed and developing countries, in order to act as a catalyst for global cooperation on climate change. Its areas of research are: (1) Evaluating the effciency of decarbonization measures in the energy, transport and land use sectors; (2) The comparative political economy of decarbonization; and (3) Measuring the progress of regional and international cooperation on climate change.
Note that this Zoom webinar is an effort to make a seminar held at ESG-UQAM in Montreal accessible to a wider audience. To participate in the webinar, registration via Eventbrite is required but no payment is necessary. A Zoom hyperlink and a password to access the event will be sent by email.
The webinar will be held in French.
For more information, please contact the Chair at the following email address: decarbonisation@uqam.ca.