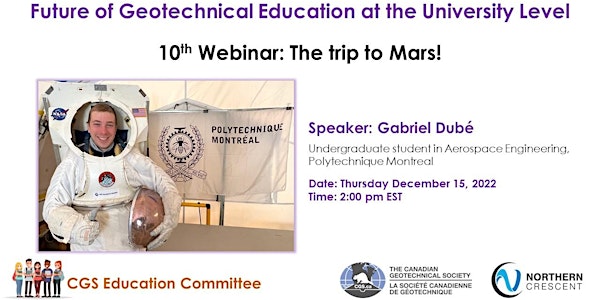 Webinar 10: Future of Geotechnical Education at the University Level
The trip to Mars!
About this event
Gabriel Dubé, undergraduate student in aerospace engineering, flew on August 3 for a three-week mission to Devon Island, Nunavut, as part of the Haughton-Mars Project (HMP) research project to conduct experiments for future exploration on the Moon and Mars. The NASA Haughton-Mars Project (HMP) is an Arctic research expedition to Nunavut that takes place each summer under the direction of Dr. Pascal Lee, a planetary scientist at the SETI Institute. This three-week expedition is conducted at the HMP polar base. The base was established at the site 25 years ago, and since then has hosted annual teams of researchers from various countries - usually planetary scientists or aerospace engineers - to conduct field experiments in preparation for the future exploration of the Moon or Mars.
HMP is located on the world's largest uninhabited island, Devon Island. This harsh climate mimics the environmental conditions on Mars and other planets. Devon Island's arid terrain, freezing temperatures, isolation, and remoteness provide scientists and staff with unique research opportunities. The Arctic day and night cycle and limited communication capabilities provide suitable analogs for the challenges of long-duration spaceflight.
Gabriel's research program consisted of his immersion in this polar expedition and space technology environment at HMP to conduct primarily two experiments: 1) The study of tethered aerostats for Mars exploration, and 2) The study of drone operation for Moon and Mars exploration. These two experiments will not only mature new concepts and technologies for future exploration of the Moon and Mars, but also produce new data - aerial imagery in particular - that will allow scientists studying the site to better characterize and understand it.