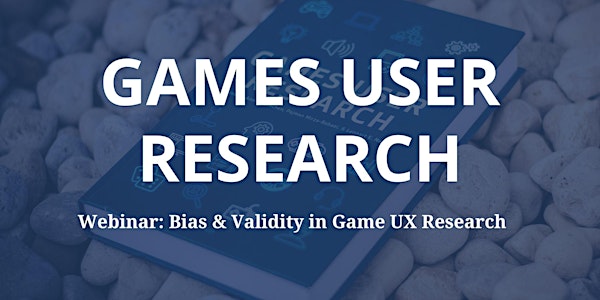 Webinar: Bias and Validity in UX Research
Ever struggled with user testing in games? Let's fix your potential errors and biases to improve how you make decisions based on your data.
Refund Policy
Contact the organizer to request a refund.
Eventbrite's fee is nonrefundable.
About this event
Unhappy with the results from your playtests? Let's improve the validity and generalizability of your studies.
What you'll get from this webinar:
We'll give you a toolkit to identify the most common types of bias in user research and how to avoid them. We provide a rich background of our own experiences with user testing in games.
We'll work with you through your recent user test (don't worry you do not have to disclose sensitive information about your study) and give you advice on how to improve your study design.
We'll provide you with an easy-to-use validity checklist that allows you to check future designs and ensure you are measuring what you intended to measure in your playtests.
Who is this webinar for?
Any professional UX researcher, tester, academic, or aspiring student that wants to run better user tests and improve their game UX testing skills.
Why is knowing about bias and validity important?
Tackling bias and validity is complex and often overlooked in professional UX research. Not every professional might care about it, but its impact on the credibility of your results or your research team is massive.
What will I learn in this webinar?
You will learn how to identify and avoid bias in user testing for games, and we will give you the tools to ensure your studies are valid.
Is this expensive?
No, it is only $ 74.99 for a ticket. The most affordable consulting session you've ever purchased.
Why the heck should I take advice from you? Who are you even?
The three of us are seasoned academics with long-standing relationships with the games user research community, working in advisory and consulting positions with several major game development studios and publishers. We have edited the seminal textbook on Games User Research for Oxford University Press. Together we bring 50+ years of experience working in the games industry to this webinar. Of course, you don't have to listen to us, but as active scientists and University professors improving the reliability and validity of your studies is kind of our jam. Check out our bios below.
Dr. Pejman Mirza-Babaei is an Associate Professor at Ontario Tech University. He carries out his research and professional work in collaboration with more than 25 companies spanning different sectors. He runs the UXR Lab, an applied UX research lab for digital media.
Dr. Anders Drachen is a Professor at the University of Southern Denmark, where he directs the SDU Metaverse Lab and heads the Game Development and Learning Technologies unit. He is co-director of the Arena Research Cluster and Head of Analytics for Weavr. His research in behavioural analytics in games is recognized worldwide. He has partnerships with dozens of companies across games and the wider Creative Industries sector.
Dr. Lennart Nacke is an Associate Professor at the University of Waterloo. He is the director of the Human-Computer Interaction (HCI) Games Group at the University of Waterloo. He is well known for his pioneering research on physiological evaluation and interaction in video games and his ground-breaking gamification research, forming a new HCI research field.
How do I sign up?
Click on the Tickets button to the right and select the type and number of tickets you want to purchase. We are looking forward to seeing you.