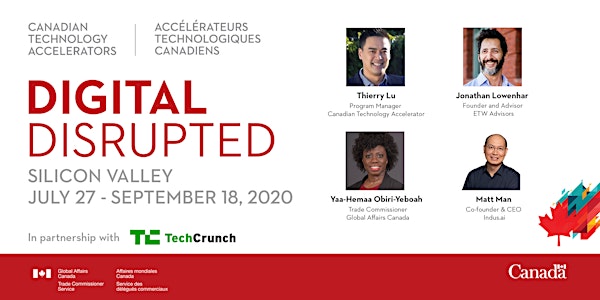 Webinar: Canadian Technology Accelerator Palo Alto digital | Webinaire
Sales Have Ended
Registrations are closed
Registration is now closed *** L'inscription est maintenant fermée
Sales Have Ended
Registrations are closed
Registration is now closed *** L'inscription est maintenant fermée
Webinar on the Canadian Tech Accelerator CTA Program in Silicon Valley: Digital Disrupted Jul-Nov 2020. //Webinaire ATC pour compagnies tech
About this event
You're a founder in Canada. You've built a promising young business with a committed team, early customers and rising revenues. But you have ambitions to build a giant company and the unfortunate truth is that unless you expand south to the US, your startup may hit a ceiling. But getting started in the US - winning big customers and finding great investors - is not an easy hill to climb.
The Canadian Technology Accelerator is here to help!
Join us on June 22nd at 9am PT (12pm ET) to learn more about this exclusive program where a select cohort of startups will receive specialized training by Silicon Valley's preeminent startup advisory firm Enjoy The Work followed by special access to the annual TechCrunch Disrupt conference.
About this Event
Join us for a webinar on the Canadian Technology Accelerator (CTA) program designed for Canadian tech companies looking to tackle the Silicon Valley market in 2020.
Speakers include:
Yaa-Hemaa Obiri-Yeboah, Canadian Trade Commissioner , Vancouver
Thierry Lu, CTA Program Manager, Palo Alto
Jonathan Lowenhar, Founder of Enjoy the Work, Silicon Valley
Matt Mann, Co-founder and CEO, Indus.ai
Topics covered
Introductions
Canadian Trade Commissioner Service offer to Canadian businesses
Overview of current dynamics in Silicon Valley in the wake of Covid, particularly the ICT / digital sector
Overview of the CTA Digital Disrupted Program in Silicon Valley: how we work with Canadian companies and key dates
Testimonial from Matt Man, Co-founder & CEO Indus.ai (a Toronto based company)
Q&A
About Enjoy The Work
At Enjoy The Work, our expertise is the discipline of company building. A partnership of 8 experienced and successful former operators and investors, we currently support 40 startup founders via immersive 1-on-1 advisory, and dozens more via virtual training programs.
Our startups are located all over the world, including Tel Aviv, Toronto, Los Angeles, Hyderabad, New York, and the San Francisco Bay Area. A sampling of our companies include some of the ecosystem's more successful stories including Tipalti, Honeybook, inDinero, RealtyMogul, Headnote, Bloomlife, Enview, Worklete, indus.ai, 10x Management, Spectrum Labs, and more.
About the CTA Digital Program
The CTA in Silicon Valley helps early stage Canadian technology startups and SMEs access the region's unique resources to achieve business objectives such as acquiring clients, establishing strategic partnerships and fundraising. The program will prepare selected companies to gain exposure at a globally recognized conference: TechCrunch Disrupt. The whole program will take place from July 27 - Sept 18, 2020.
Who should apply for the CTA Program in Silicon Valley?
The ideal startup applicant:
1) should already have raised initial capital (minimum $500k CAD)
2) have a product already available in the market
3) intends to raise a first round of institutional venture capital before the end of 2020
4) operate in one of the following 5 industries (or sectors):
Education (EdTech)
Finance (FinTech)
Logistics & Supply Chain (Logistics Tech)
Property Management (PropTech)
Retail (RetailTech)
For further details on this 8-week program, visit the CTA Digital in Silicon Valley web page.
Webinar login details will be shared 1-2 business days prior to the event. Space is limited.
Contact Information: Trade Commissioner Service's Canadian Technology Accelerator cta-atc@international.gc.ca
About the Speakers
Jonathan Lowenhar
For more than 20 years, Jonathan has successfully built a $1B business segment for a large public company, guided the turnaround of a distressed $100M+ revenue business, launched and sold a venture-backed startup, and led the rise of one of the world's fastest growing B2B SaaS businesses. In 2014, Jonathan founded Enjoy The Work, this Silicon Valley firm supports a new generation of startups to launch, grow and reach scale.
Thierry Lu
Thierry Lu, program lead for the CTA Digital in Silicon Valley, from the Trade Commissioner Service (TCS) office in Palo Alto. He has a vast experience supporting startups. Having worked at Apple, Google and several startup and even founded his own startup, he is truly connected with the Bay area ecosystem. Before joining the TCS, he ran a community forum called Hungry Fools for early stage entrepreneurs to pitch ideas in front of a panel of experts.
Yaa-Hemaa Obiri-Yeboah
Yaa-Hemaa Obiri-Yeboah is a Trade Commissioner in the Pacific Regional Office of Global Affairs Canada. She is the Vancouver lead for recruitment and support for the Canadian Technology Accelerator. Prior to this role, she served as the trade commissioner responsible for ICT, specifically related to gaming, digital media and enterprise software. Previously, Yaa-Hemaa worked at Global Affairs Canada's Ottawa headquarters in various capacities in International Trade, including strategic policy and as part of the negotiating team for the Canada-EU Comprehensive Economic and Trade Agreement (CETA).
About the organization
For 125 years, the Trade Commissioner Service (TCS) is a service of the Government of Canada that helps Canadian companies take their business to the world. The Canadian Technology Accelerator (CTA) is a program of the Trade Commissioner Service (TCS) that provides business acceleration support in global hubs for companies in Digital Industries, Life Sciences, and Cleantech.
***
À propos de ce webinaire
Rejoignez-nous le 22 juin pour un webinaire sur un programme conçu pour les entreprises technologiques canadiennes qui veulent s'attaquer au marché de la Silicon Valley en 2020. Les conférenciers incluent:
Thierry Lu, gestionnaire du programme des accélérateurs technologiques canadiens, Palo Alto
Jonathan Lowenhar, conseiller stratégique pour Enjoy the Work, Silicon Valley
Yaa-Hemaa Obiri-Yeboah, Déléguée commerciale canadienne, Vancouver
Matt Mann, Co-fondateur et PDG, Indus.ai
Sujets couverts
Présentations
Qu'est-ce que le Service des délégués commerciaux du Canada?
Aperçu du marché de la Silicon Valley, en particulier le secteur des TIC / numérique
Qu'est-ce que le programme ATC disruption numérique à Palo Alto (Silicon Valley): aperçu, objectifs et outils qu'il offre aux entreprises canadiennes et dates clés
Q&R
Le programme ATC dans la Silicon Valley
L'accélérateur technologique canadien permet aux entreprises canadiennes en démarrage et de développement à fort potentiel avec une technologie ou un produit existant d'explorer des opportunités de croissance commerciale en Amérique du Nord, en Asie et en Europe.
L'ATC de Palo Alto aide les start-ups et les PME technologiques canadiennes en démarrage à accéder aux ressources uniques de la Silicon Valley pour atteindre des objectifs commerciaux tels que l'acquisition de clients, l'établissement de partenariats stratégiques et la collecte de fonds. Le programme préparera les entreprises sélectionnées à participer à une conférence mondialement reconnue: TechCrunch Disrupt *. L'ensemble du programme se déroulera du 27 juillet au 18 septembre 2020.
Qui peut postuler
La start-up idéale devrait déjà avoir levé des capitaux (pensez à Seed) et être prête à lever une série de financements de série A lors de sa candidature au programme.
Les startups et les PME avec une équipe solide, un produit minimum viable et une bonne traction qui perturbent l'une des 5 industries (ou secteurs) suivants sont invitées à postuler à ce programme:
Éducation (EdTech)
Finance (FinTech)
Logistique et chaîne d'approvisionnement (Logistics Tech)
Gestion immobilière (PropTech)
Vente au détail (RetailTech)
Pour plus de détails sur le programme de 7 semaines, visitez la page Web ATC Disruption numérique dans la Silicon Valley.
Les informations de connexion au webinaire seront partagées 1 à 2 jours ouvrables avant l'événement. L'espace est limité.
Informations de contact:
Service des délégués commerciaux, programme de l'Accélérateur technologique canadien cta-atc-bbr@international.gc.ca
À propos des conférenciers
Jonathan Lowenhar
Depuis plus de 20 ans, Jonathan a bâti avec succès un segment d'activité de 1 milliard de dollars pour une grande société , a guidé le redressement d'une entreprise en difficulté de plus de 100 millions de dollars, a lancé et vendu une start-up soutenue par une entreprise et a dirigé l'essor de l'une des entreprises mondiales SaaS B2B à croissance rapide. En 2014, Jonathan a fondé Enjoy The Work, cette entreprise de la Silicon Valley soutient une nouvelle génération de startups pour lancer, croître et prendre de l'expansion.
Thierry Lu
Thierry Lu, chef de programme pour l'ATC Numérique dans la Silicon Valley, du bureau du Service des délégués commerciaux (SDC) à Palo Alto. Il possède une vaste expérience dans le soutien aux startups. Après avoir travaillé chez Apple, Google et plusieurs startups et même fondé sa propre startup, il est bien connecté à l'écosystème de la Baie de San Francisco. Avant de se joindre au SDC, il a dirigé un forum communautaire appelé Hungry Fools pour que les entrepreneurs en début de carrière puissent présenter leurs idées devant un groupe d'experts.
Yaa-Hemaa Obiri-Yeboah
Yaa-Hemaa Obiri-Yeboah est déléguée commerciale au Bureau régional du Pacifique d'Affaires mondiales Canada. Basée à Vancouver, elle est la responsable du recrutement et du soutien de l'accélérateur technologique canadien (ATC). Avant d'occuper ce poste, elle a été déléguée commerciale responsable des TIC, spécifiquement liées aux jeux, aux médias numériques et aux logiciels d'entreprise. Auparavant, Yaa-Hemaa a travaillé au siège social d'Affaires mondiales Canada à Ottawa à divers titres dans le domaine du commerce international, y compris la politique stratégique et au sein de l'équipe de négociation de l'Accord économique et commercial global (AECG) Canada-UE.
Les organisateurs
Depuis 125 ans, le Service des délégués commerciaux (SDC) est un service gratuit du gouvernement du Canada qui aide les entreprises canadiennes à s'orienter sur les marchés internationaux.
Les Accélérateurs technologiques canadiens (ATC) sont un programme du Service des délégués commerciaux (SDC) qui offrent un tremplin aux entreprises en technologie de l'information et des communications (TICs), en sciences de la vie et en technologies propres.