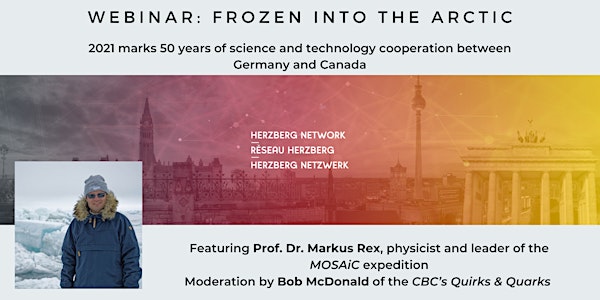 Webinar: Frozen Into The Arctic
2021 marks 50 years of science and technology cooperation between Germany and Canada.
About this event
WATCH HERE: https://youtu.be/rTntoW_vI-Q
The Royal Canadian Geographical Society and the German Embassy in Canada invite you to "Frozen into the Arctic: the MOSAiC Mission 2020 and first results" on Monday, September 13th, 2021, at 11:00 AM ET marking the launch of the German Canadian Herzberg Network.
Prof. Dr. Markus Rex, physicist and leader of the MOSAiC expedition, will report on the experiences and the scientific findings during the largest Arctic expedition to date. Scientists from 20 nations spent one year on board the "Polarstern" studying the effects of climate change.
Moderation by: Bob McDonald of the CBC's Quirks & Quarks
Opening remarks: Gavin Fitch, President of the Royal Canadian Geographical Society and Sabine Sparwasser, German Ambassador to Canada
We look forward to celebrating the boundary-breaking research partnership between Germany and Canada!