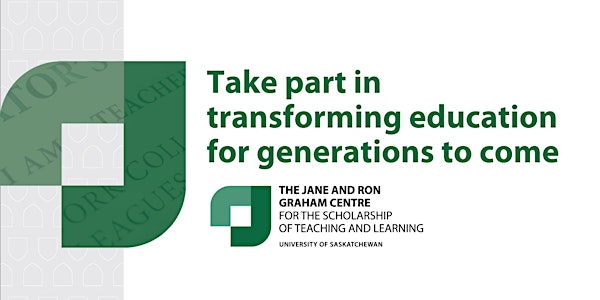 Webinar- Graduate Programs in SoTL
Information session on the Master of Scholarship of Teaching and Learning & Certificate in Scholarship of Teaching and Learning
About this event
Monday, March 28, 4:00pm CST
Join Dr. Dirk Morrison, Director of the Jane and Ron Graham Centre for the Scholarship of Teaching and Learning, to learn more about our graduate programs in SoTL.
Interested, but not able to attend? All registrations will be sent a link to the webinar following the event.
Questions? Contact sotl@usask.ca .
Newly established in 2020, the centre provides a space and place for interested faculty and students, across all disciplines, to not only exchange research ideas, but to design and execute unique SoTL research projects. The centre offers master's and certificate programs exclusively focusing on the scholarly development of professionals who specialize in this growing research area. For more information and program requirements, visit our admissions page.
What is the Scholarship of Teaching and Learning?
SoTL is a growing area of study devoted to conducting educational research within and across academic disciplines and sharing the results publicly. Simply stated, every discipline is unique, but SoTL recognizes they share the need to discover ways to improve learning by teaching those disciplines well. If the knowledge we gain about teaching and learning is left unexamined and confined to our classrooms, we deny others the opportunity to grow and innovate from what could be shared.
Questions? Contact us at sotl@usask.ca
About the College of Education at the University of Saskatchewan
The University of Sakatchewan is one of the top research-intensive, medical doctoral universities in Canada, and is home to world-leading research in areas of global importance, such as water and food security, and infectious diseases.
USask's College of Education offers a number of longstanding and new master's and certificate programs to help educators and aspiring educators deepen their knowledge in a chosen area. Certificate programs are flexible, designed to support busy schedules, and respond to changing educational needs and community demographics.