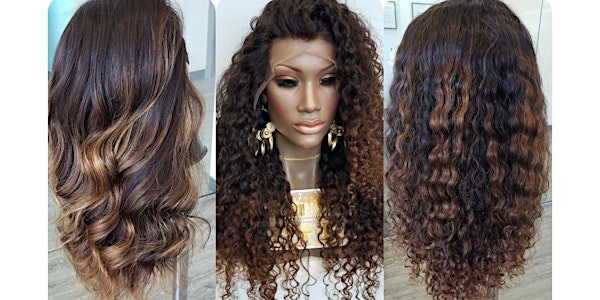 WEBINAR: Hair Extensions & Wigs BALAYAGE 101
Description
BECOME THE MASTER OF YOUR DESTINY
You can participate from any country. THIS IS AN ONLINE WEBINAR
DO NOT MISS THIS WORKSHOP!
This intensive class will prepare you with the skills you need to highlight and lighten hair extensions and lace wigs.
COLOUR IS TRENDING. Set yourself apart by offering modern beautifully coloured units. BUNDLES, WEAVES, WIGS. Step your game up! SET YOUR SUMMER WIGS ON FIRE!
Set yourself apart in this ever growing hair industry. Learn how to take your basic black wigs and turn them into works of art. Your clients will keep coming back and they will be referring their friends and family
No experience required, just bring your passion to learn.
WORKSHOP CURICULUM:
Colour theory
- The level system
- The law of colour
- The colour wheel
- Hair colour product formulations
-Oxidative hair colouring products
- Non oxidative hair colouring products
Practical highlighting and lightening applications
- Effective sectioning for wigs
- Lightening formula
- Lifting with and without bleach
- Balayage techniques on virgin hair
- Hair painting techniques
- Creating dimension through highlights
- Creating a "Money piece"
- Base breaking
- Toning formulation
- Effective toning
- Ash blonding
Certificate of completion provided
Webinar - you will receive your products list after registration. If you need to purchase a wig to work on I am offering 14 inch virgin bodywave lace front wigs $99. If you are sourcing your own wig please ensure it is VIRGIN HAIR.