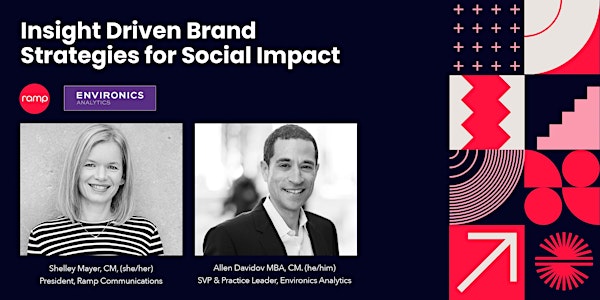 WEBINAR: Insight Driven Brand Strategies for Social Impact
Insight Driven Brand Strategies for Social Impact
About this event
Insight Driven Brand Strategies for Social Impact.
In this engaging session, Shelley Mayer (Founder and President of Ramp) and Allen Davidov (Senior VP and Practice Leader at Environics Analytics) will demonstrate how to leverage various types of data and research to strengthen your brand and help your cause or organization build more and deeper connections with your audiences and stakeholders.
Expertise
Moderated by Shelley Mayer, CM, Founder and President of Ramp Communications, this insightful conversation promises to deliver key learning on brand strategies for social impact.
Allen Davidov, MBA, CM, Senior Vice President and Practice Leader, Environics Analytics, will bring his expertise in the areas of data, analytics, and AI/machine learning to the discussion.
What You'll Learn
The key components of an annual brand health check
Metrics and assessment tools to help with setting benchmarks and monitoring performance
The role data and analytics play in assessing the health of your brand
Who should attend
Executive-level professionals and brand leaders (particularly those in the non-profit and fundraising space).
Join Us
Wednesday, September 7th, 2022
11:30 - 1:00 PM EST
Zoom link to follow with email confirmation
Questions?
Reach out to hello@ramp.agency
About Shelley Mayer
Shelley Mayer, CM founded Ramp in 2011. A passionate and visionary leader, Shelley is committed to the intersection of purpose and profit. Shelley believes that collaboration is at the heart of all success and is well known as an industry connector and matchmaker.
With deep business experience and extensive knowledge of the social impact space, Shelley has advised hundreds of organizations in their quest for transformational change. A trusted industry expert, coach, and advisor, Shelley has a reputation for challenging the status quo and creative problem-solving. In 2021, bringing together a decade of learning, Shelley pioneered Ramp's Enlightened Brand™ method.
Shelley holds a business degree from Wilfrid Laurier University and the Chartered Marketer designation with the Canadian Marketing Association, where she's sat on the CMA NFP Council since 2019. She is also a Futurpreneur mentor and a founding and ongoing Activator with SheEO.
With more than 20 years of combined client and agency experience, Shelley is a trusted strategic advisor to social impact organizations and has worked with a broad range of clients in the charity and NFP sector, including World Animal Protection, the Toronto Humane Society, the Alzheimer Society Canada, Parkinson Canada, West Park Foundation, Food Banks Canada, CAMH Foundation, Habitat for Humanity Canada, the Canadian Mental Health Association and more.
About Allen Davidov
Allen Davidov, MBA, CM. is the Senior Vice President & Practice Leader of the not-for-profit, energy, transportation, and public sector at Environics Analytics. With nearly twenty years of experience in marketing, analytics, and fundraising, he has worked with organizations of all sizes to unlock the value of information in decision-making and business strategy. Prior to joining EA, Allen successfully led marketing, and a variety of fundraising programs at a number of organizations, including Sinai Health Foundation, Habitat for Humanity GTA, Canadian Breast Cancer Foundation Ontario Region, St. John's Rehab Hospital Foundation at Sunnybrook Health Sciences Centre and North York General Hospital Foundation. Allen is also an active member of the Canadian Marketing Association Not-For-Profit Council, a marketing and data volunteer with the Canadian Association of Gift Planners, and a member of Seneca College's Marketing Advisory Council. He holds a Master of Business Administration degree from the University of Liverpool, a Bachelor of Commerce degree from Ryerson University, a Creative Advertising diploma from Centennial College, and a Chartered Marketer certificate from the Canadian Marketing Association.