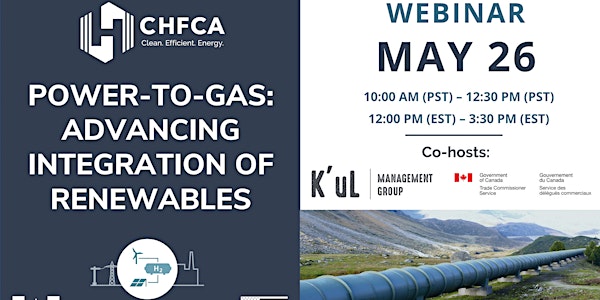 Webinar - Power-to-Gas: Advancing Integration of Renewables
Description
Join us for an exclusive webinar focusing on power-to-gas (P2G) technology on Tuesday, May 26.
Hosted by the Canadian Hydrogen and Fuel Cell Association (CHFCA), K'ul Group, and Trade Commissioner Service (Global Affairs Canada), the webinar will discuss how low-cost, low-carbon intensity hydrogen can be produced using surplus renewable energy and subsequently be injected into the natural gas grid. In doing so, the hydrogen can displace natural gas, reducing greenhouse gas emissions and reliance on high-carbon fuels. Other topics include power-to-gas initiatives that are currently underway in Canada and the US, as well as opportunities for First Nations and independent power producers to develop renewable P2G projects.
The line-up of webinar speakers includes representatives from Natural Resources Canada, US Department of Energy (DOE) Fuel Cell Technologies Office, RedwoodAdaptive, Hydrogenics, Air Liquide, Enbridge, National Renewable Energy Laboratory (NREL), HTEC, University of British Columbia (UBC), Siemens, FortisBC, SoCal Gas, British Columbia Utilities Commission (BCUC), and more.