Description
A CERIC-CDAA Partner Webinar Series
Presenter: Hamoon Ehktiari

Date and Time:
Tuesday, June 4, 2019, 12:00 pm – 1:00 pm ET
Tuesday, June 25, 2019, 12:00 pm – 1:00 pm ET
Thursday, June 27, 2019, 12:00 pm – 1:00 pm ET
Cost:
Full Series CDAA Member: $119
Full Series Non CDAA-Member: $159
Bring your team together for this convenient online training opportunity!
In addition to access to the live webinars, all registered participants will receive a password-protected video recording of each session, available for one week from its live broadcast date in case you miss one.
The way we work and learn is radically changing. With the development and adoption of new artificial intelligence (AI) and robotics technologies, one in seven people will need to find a new occupation by 2030: one in two for women and peoples of colour.
As economic forces such as automation, "gig work," and disruptive business models continue to shape and reshape a rapidly transitioning work environment across the globe, new, innovative and agile approaches are needed to bridge the widening gap between talent and opportunity.
This webinar series would be perfect for those who have been asking questions such as: "How can I help my students or clients prepare for jobs that do not exist now?" "How can I help identify which skills to obtain?" "What are the 'future-proof' jobs that are safe to pursue?" "
The series takes you through the necessary steps of "getting located", "finding a destination", and "mapping pathways" to opportunities; and identifies tools that help you or your clients better navigate the ever-changing world of work and learning.
---
Webinar #1: Get Located-Discovering Your Superpowers

Tuesday, June 4, 2019 | 12:00 pm to 1:00 pm ET
Learn key trends influencing the future of work and learning
Learn common pitfalls in navigating the world of work
Understand the importance of getting the starting location right
Understand the concept of unlocking a 360-degree view of talent
Learn tools to help your clients locate themselves
Webinar #2: Find Your Destination-Exploring the World of Opportunities

Tuesday, June 25, 2019 | 12:00 pm to 1:00 pm ET
Understand a job as a matrix of skills
Understand how jobs evolve within a dynamic system influenced by technological, social and economic factors
Learn the framework of future fit jobs and skills
Learn what a future fit individual looks like
Learn how to support your clients to find their destination
Webinar #3: Map Your Pathways-Finding the Right Learning and Growth Supports
Thursday, June 27, 2019 | 12:00 pm to 1:00 pm ET
Understand why people fail to pursue their dream jobs
Understand what needs to be considered to map pathways to future opportunity
Understand that not all the pathways are the same
Learn how to use FutureFit AI
Learn what a career and career development in the future of work could look like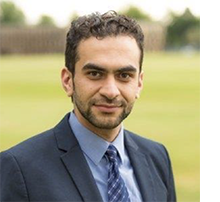 Hamoon Ehktiari is the Founder & CEO of Audacious Futures, a global launchpad for bold innovation. Previously, he was the Director of Strategy and Innovation at TELUS and a management member at MaRS, Canada's largest innovation hub. He is passionate about unlocking the potential of people, organizations and societies to re-imagine and build the future. He delivered a popular Spark! talk at the Cannexus National Career Development Conference on the Future of Work and Learning.

Cancellation Policy
Requests for cancellation(s) must be made by emailing your request to webinars@ceric.ca. Cancellation requests must be received before 5:00 pm ET 2 business days prior to the webinar date. NO REFUNDS are granted after this point. An administrative fee of 10% will be deducted from any paid webinar registration.
Refunds will be issued within two weeks after receipt of the written notice.
Delegate substitutions are permissible. Please notify us at webinars@ceric.ca if you intend to transfer your registration to another person. Supply us with that person's name and contact information including their email address. The substitute delegate will be required to pay any difference in registration rate.
If a technical failure at the attendee's home or workplace prevents access to the live webinar, the attendee will not be given a refund. It is the responsibility of the attendee to confirm system requirements and test their computers prior to the start of the webinar.
Any questions regarding webinars, please contact webinars@ceric.ca.
Organizer of Webinar Series: AI-Powered, Human-Centred Career Development & Coaching: Preparing for Skills and Jobs of the Future
CERIC is a charitable organization that advances education and research in career counselling and career development, in order to increase the economic and social well-being of Canadians. It funds projects to develop innovative resources that build the knowledge and skills of diverse career professionals. CERIC also annually hosts Cannexus, Canada's largest bilingual career development conference, publishes the country's only peer-reviewed journal, Canadian Journal of Career Development, and runs the CareerWise / OrientAction websites, providing the top career development news and views.