Description
A CERIC-CCPA Partner Webinar Series
Presenters: Seanna Quressette and Tina-Marie Christian
Date and Time:
Cost:
Full Series CCPA Member: $119
Full Series Non CCPA-Member: $159
Bring your team together for this convenient online training opportunity!
In addition to access to the live webinars, all registered participants will receive a password-protected video recording after each session. The recordings will remain available for one week after the final webinar of the series.
Overview
Clients may come to career services with a history of trauma, including intergenerational trauma. Intergenerational trauma may occur when the trauma events of one generation influence subsequent generations. In this webinar series, we will explore intergenerational trauma, particularly its impacts on Indigenous jobseekers, in both the historical context and present-day realities. The two presenters will share their expertise in trauma and career development as well as their experience working with Indigenous peoples. Together, you will explore the best practices for working with clients and communities living with intergenerational trauma.
Why You Should Attend
This new webinar series comes in response to our Trauma-Informed Career Development series held this past spring and the need expressed by career practitioners to deepen their understanding around intergenerational trauma. However, the upcoming series doesn't require participants to have seen the previous one. Participants will learn to become culturally aware and recognize the signs and signals of trauma and develop strategies for dialogues and dosing. The webinars are intended to support career practitioners in their practice. They are not meant to make career practitioners competent to diagnose trauma in their clients.
---
Webinar #1: Intergenerational Trauma: A Career Development Context
Thursday, Novermber 14, 2019 | 12:00 pm to 1:00 pm ET
Self-care tools for learning about intergenerational trauma
Defining intergenerational trauma and why it's important to understand it now
Impact of colonization that leads to intergenerational trauma
Historical employment readiness and expectations
Timeline of funded Indigenous career development services
Webinar #2: Intergenerational Trauma Impacts on Individuals and Communities

Thursday, November 21, 2019 | 12:00 pm to 1:00 pm ET
Systemic barriers to job search and education
Role systemic barriers play in intergenerational trauma
Intergenerational trauma impacts on the individuals
Intergenerational trauma impacts on communities
Tools for identifying systemic barriers in your community
Webinar #3: Intergenerational Trauma: Trauma-Informed Best Practices

Thursday, November 28, 2019 | 12:00 pm to 1:00 pm ET
Career development professional education and responsibility to become culturally aware
Strategies to become culturally aware
Defining trauma-informed best practices in the intergenerational context for career development
Strategies for dialogue and dosing
Trauma-informed strategies to work with intergenerational trauma in the career development setting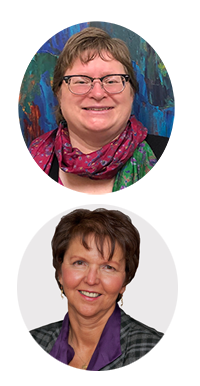 Seanna Quressette MEd, CCDP, is a trained Trauma Therapist in the Moaiku ROST method, who also has over 30 years of experience in the career development sector. Seanna teaches at Douglas College in the Career Development Practice programs and is the owner of Creating Intentional Change, Inc. Seanna has worked with clients in private practice, in public programs and through post-secondary education. She brings to these webinars' knowledge and expertise in both trauma work and career development. Seanna also led the popular webinar series on Trauma-Informed Career Development series held this past spring.
Tina-Marie Christian, MAOM, BEd (Adult) is a member of the Syilx Nation (Okanagan) and a community member of the Splatsin First Nation (Enderby, BC). She holds a Master of Arts Degree in Organizational Management. Throughout her career, she has applied the framework of understanding from an intergenerational trauma perspective as the basis for building personal and community capacity
Cancellation Policy
Requests for cancellation(s) must be made by emailing your request to webinars@ceric.ca. Cancellation requests must be received before 5:00 pm ET 2 business days prior to the webinar date. NO REFUNDS are granted after this point. An administrative fee of 10% will be deducted from any paid webinar registration.
Refunds will be issued within two weeks after receipt of the written notice.
Delegate substitutions are permissible. Please notify us at webinars@ceric.ca if you intend to transfer your registration to another person. Supply us with that person's name and contact information including their email address. The substitute delegate will be required to pay any difference in registration rate.
If a technical failure at the attendee's home or workplace prevents access to the live webinar, the attendee will not be given a refund. It is the responsibility of the attendee to confirm system requirements and test their computers prior to the start of the webinar.
Any questions regarding webinars, please contact webinars@ceric.ca.