Description
A CERIC-BCCDA Partner Webinar Series
Presenter: Seanna Quressette
Date and Time:
Thursday, June 6, 2019, 12:00 pm – 1:00 pm ET
Thursday, June 13, 2019, 12:00 pm – 1:00 pm ET
Thursday, June 20, 2019, 12:00 pm – 1:00 pm ET
Cost:
Full Series BCCDA Member: $119
Full Series Non BCCDA-Member: $159
Bring your team together for this convenient online training opportunity!
In addition to access to the live webinars, all registered participants will receive a password-protected video recording of each session, available for one week from its live broadcast date in case you miss one.
Trauma comes in many forms, with clients who have grown up with abuse, homelessness, war or experienced psychological or physical shocks.
This webinar series will present strategies for career practitioners to create a trauma-informed practice in their service delivery settings. As more clients come to career services with a history of trauma, it is essential that career practitioners have the tangible tools to work effectively with these individuals.
Over the course of these three webinars we will look at the impacts of trauma on career development, the ways we create trauma-informed spaces and strategies for trauma-informed dialogues with clients. Participants will learn to recognize the signs and signals of trauma, and guide clients from self-identity to job search.
The webinars are intended to support career practitioners in their practice. They are not meant to make career practitioners competent to diagnose trauma in their clients.
---
Webinar #1: Impacts of Trauma on Career Development
Thursday, June 6, 2019 | 12:00 pm to 1:00 pm ET
What causes trauma
The impact of trauma on the body
The impact of trauma on the mind
The ways trauma impacts the processes of career development
Places to learn more about trauma
Webinar #2: Defining Trauma-Informed Career Development Practices

Thursday, June 13, 2019 | 12:00 pm to 1:00 pm ET
The definition of "Trauma-Informed Career Development Practice"
Guiding principles for trauma-informed care
Strategies to create trauma-informed spaces
Tactics to tailor the dose of an intervention to the client
Plans for self-care for career development practitioners
Webinar #3: Trauma-Informed Strategies for Career Practitioners

Thursday, June 20, 2019 | 12:00 pm to 1:00 pm ET
Creating trauma-informed dialogues
Use of language and timing in working with clients with trauma
Use of dosing in dialogue to create open conversations
Creating conversations that lead to results
Following up on interventions in trauma-informed ways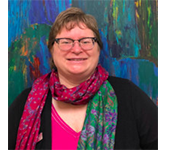 Seanna Quressette MEd, CCDP, is a trained Trauma Counsellor who also has over 30 years of experience in the career development sector. She is the Coordinator of Continuing Education at Douglas College Faculty of Child Family and Community Studies and is a private practitioner. Seanna has worked with clients in private practice, in public programs and through post-secondary education. She brings to these webinars knowledge and expertise in both trauma work and career development. Seanna presented to a packed house on Trauma-Informed Career Development Practice at the Cannexus19 National Career Development Conference and received top ratings.
Cancellation Policy
Requests for cancellation(s) must be made by emailing your request to webinars@ceric.ca. Cancellation requests must be received before 5:00 pm ET 2 business days prior to the webinar date. NO REFUNDS are granted after this point. An administrative fee of 10% will be deducted from any paid webinar registration.
Refunds will be issued within two weeks after receipt of the written notice.
Delegate substitutions are permissible. Please notify us at webinars@ceric.ca if you intend to transfer your registration to another person. Supply us with that person's name and contact information including their email address. The substitute delegate will be required to pay any difference in registration rate.
If a technical failure at the attendee's home or workplace prevents access to the live webinar, the attendee will not be given a refund. It is the responsibility of the attendee to confirm system requirements and test their computers prior to the start of the webinar.
Any questions regarding webinars, please contact webinars@ceric.ca.
Organizer of Webinar Series: Trauma-Informed Career Development: How to Recognize and Effectively Respond to Trauma in Your Practice
CERIC is a charitable organization that advances education and research in career counselling and career development, in order to increase the economic and social well-being of Canadians. It funds projects to develop innovative resources that build the knowledge and skills of diverse career professionals. CERIC also annually hosts Cannexus, Canada's largest bilingual career development conference, publishes the country's only peer-reviewed journal, Canadian Journal of Career Development, and runs the CareerWise / OrientAction websites, providing the top career development news and views.