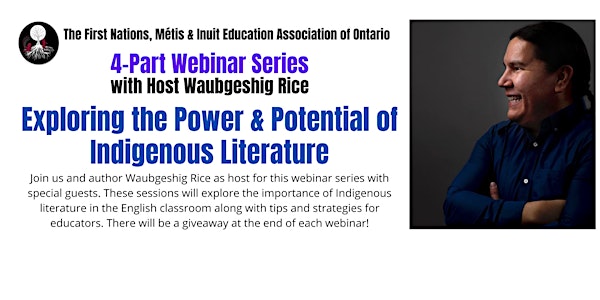 Webinar Series with Waubgeshig Rice
4 Part Webinar Series with Waubgeshig Rice
About this event
Beginning in September, Waubgeshig Rice will host 4 different webinars with special guests. These sessions will explore the importance of Indigenous literature in the English classroom along with tips and strategies for educators. There will be a giveaway at the end of each webinar!
September 28th 7:00pm - 8:30pm EST "Why Indigenous Literature Matters" with special guest Daniel Heath Justice
October 19th 7:00pm - 8:30pm EST "Storytelling Opportunities in Literature & Media" with special guest Rosanna Deerchild
November 15th 7:00pm - 8:30pm EST "Encountering Cultural Text Forms" with special guest Isaac Murdoch
December 14th 7:00pm - 8:30pm EST "How to Incorporate Creative Writing without Appropriating" with Waubgeshig Rice
Webinars will take place over zoom and YouTube. Links will be shared a week before the event and will be emailed out to registrants.
Join us as we explore the power and potential of Indigenous literature!