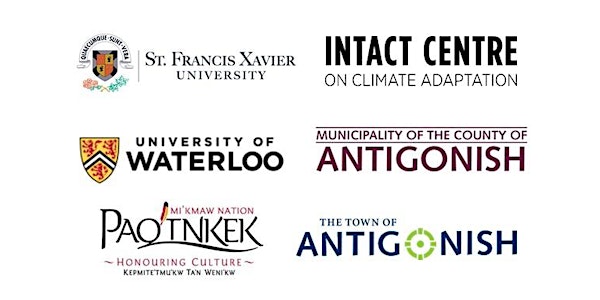 Webinar: Supporting Resident Action to Protect Homes from Flooding in Northern Nova Scotia
Description
From 10:30am-12:30pm (ADT), 9:30am-11:30am (EDT), 8:30am-10:30am (CST), 7:30am-9:30 am (MDT), 6:30am-8:30am (PDT), on May 6th, you are invited to attend a free, action-focused webinar that will provide community leaders and emergency management teams within a 75km radius of Antgonish, Nova Scotia with a variety of high-impact, low cost, community-tested approaches and outreach materials they can use to support resident action to protect homes from flooding.
Webinar participants will learn about (1) how climate change is increasing home flood risk in Nova Scotia, (2) the most common flood risks that impact homes, (3) the cost-effective ways that residents can reduce home flood risk and (4) the high impact, low cost, community-based approaches that can be employed in local communities to raise awareness and support resident action to reduce risk.
All participants will receive a Home Flood Protection Outreach Toolkit that includes: links to step-by-step infographics, an online home flood risk assessment tool, how-to videos, maintenance checklists, fully customizable social media campaigns, and support from the Intact Centre to help communities adapt materials to support local action.
"Supporting Resident Action to Protect Homes from Flooding" is presented by St Francis Xavier University and the Intact Centre on Climate Adaptation (University of Waterloo) in collaboration with the Town of Antigonish, the Municipality of Antigonish, and Paqtnkek Mi'Kmaw Nation.
Agenda:
10:30 Introductory remarks and welcome - Mayor Laurie Boucher, Town of Antigonish; Warden Owen McCarron, Municipality of the County of Antigonish; Chief PJ (Paul) Prosper, Paqtnkek (Afton, Ant Co); Dr. Kevin Wamsley, President, St Francis Xavier University
10:40 Impacts of flooding in Canada with a focus on the Atlantic Provinces - Dr. Blair Feltmate, Intact Centre
10:55 Using a community-based approach to support home flood protection - Cheryl Evans, Intact Centre
11:10 Most common home flood risks and cost-effective solutions - Daniel Filippi, Intact Centre
11:30 Outreach materials in the Home Flood Protection Toolkit - Cheryl Evans, Intact Centre
11:50 Audience discussion/ Q&A
12:25 Thank you - Dr. Kevin Wamsley, President, St Francis Xavier University
Please click on the following link to access the webinar and use the password: 230841
https://zoom.us/j/97536109757?pwd=TnpqTU8wdzZwU1pNVmR6TmtRUzFhZz09
We look forward to connecting with you via webinar on May 6th.
Sincerely,
Kevin B. Wamsley PhD
President and Vice-Chancellor (Interim)
St Francis Xavier University