TriView Capital - 2020: Investing with Hindsight
About this event
TriView Capital is pleased to invite you to join online at 7:00pm PST/8:00pm MST. The webinar will give an update on the 9 properties currently inside the trust, two pending acquisitions and our plans for 2020 with Western Wealth Capital (WWC).
In addition, there will be a question period for current and potential clients to ask questions about the opportunity.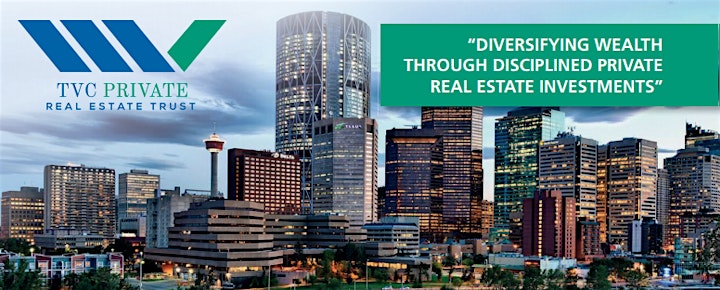 The TVC Private Real Estate Trust is excited to inform you about our progress in 2019 and into 2020. We focused initially on the US multi-family sector with our lead issuer, Western Wealth Capital (WWC), and purchased 9 properties in 2019. These were located in Dallas and Houston, Texas, Atlanta, Georgia, and Phoenix, Arizona. We also have pending acquisitions into Valley Oaks in Dallas, Texas, and our first deal of 2020 into Desert Willow in Phoenix, Arizona.
In addition, we are pleased to let you know about our commitment to add 10 more properties with Western Wealth Capital over the course of 2020 as well as other potential opportunities which may arise.
Key focus of the trust is as follows:
Focus on capital preservation
Return of investor capital plus 7% hurdle rate before profit split
Diversified across 5 real estate classes
Quarterly redemptions available
Term approx 7+ years
Eligible for RRSP/TFSA
TVC Trust Webinar Login Details
Thu, Feb 13, 2020 7:00 PM - 8:00 PM (PST), 8:00pm - 9:00 PM (MST)
*Note: Link will be available at time of event.
Please join my meeting from your computer, tablet or smartphone.
https://global.gotomeeting.com/join/339479925
You can also dial in using your phone.
Canada: +1 (647) 497-9373
Access Code: 339-479-925
More phone numbers
United States: +1 (571) 317-3117