Level up your brand, client experience, and workflow with wedding photographers Nicole Ashley, Halima Jama, and Jon Taylor Sweet.
About this event
When: Monday May 17, 2021 | 5pm - 6:45pm PST / 8pm - 9:45PM EST
Where: ONLINE - Webinar
Cost: FREE - RSVP to secure your spot.
Join us on Monday, May 17th for an online Socality x Canon Creator Lab panel workshop and Q&A with wedding and portrait photographers Nicole Ashley (@nicoleashley), Halima Jama (@halimajama_), and Jon Taylor Sweet (@jontaylorsweet) as they offer a variety of insights, practical tools, and advice to help level up your brand, client experience, and workflow.
This session will cover themes including:
Building out your personal brand and securing clients
Taking advantage of the wedding boom that's coming in 2022
Creating an unforgettable client experience each step of the way
Adapting within the current environment as we still navigate the effects of COVID-19 on the wedding industry
Stepping up your workflow from pre-production through to client delivery
Q&A Session
& more
This workshop will offer the combination of a live panel workshop session with our instructors and a Q&A portion.

About Nicole Ashley:
Nicole Ashley is an international portrait and wedding photographer based out of Alberta, Canada. Her influence has branched out far beyond the boundaries of her city, bringing her throughout much of Canada, and on to international destinations such as Iceland, Italy, Switzerland, and Australia. Nicole has built an impressive resume, photographing magazine features, best selling novel covers, internationally acclaimed musicians, music festivals and fashion shows. With innate creativity, unparalleled work ethic, and a passion for the entire craft, she is not only a photographer but an artist. Her main areas of focus are now intimate weddings and couples portraiture. Not only an artist but as an educator in her craft, she also hosts and speaks at several awards winning photo conferences throughout the world.
You can learn more about Nicole on Instagram and her website.
About Halima Jama:
My name is Halima Jama, and I have been a photographer for over 16 years. During that time I have been fortunate to photograph many streams of photography. However nothing brings me as much joy as photographing Fine Art Weddings.
It is important to me as a Black Muslim creative to honour Black love and Black joy in a dignified manner through my work. On my platform, and in my artwork, I make it a personal obligation to amplify Black positivity through love in a dignified manner.
You can learn more about Halima on Instagram and her website.
About Jon Taylor Sweet:
I am a wedding, commercial, and lifestyle photographer from the greater Seattle area! I love life, love coffee, and love to celebrate moments with the finest of people. I'm inspired to shoot weddings, lifestyle content that provokes creativity, and to be in spaces in the commercial world that keep me uncomfortable. In the last few years I have been fortunate enough to be apart of so many couples' proposals, weddings, and other engagements. I have been able to shoot album covers for friends which was a brand new experience and I've had the chance to shoot massive marketing campaigns for companies that I never thought I would have had the chance to work with. Most importantly, photography has brought life long friendships with everlasting memories that I will be eternally grateful for. Capturing moments is something that I cherish and am so thankful for every opportunity.
Learn more about Jon on Instagram and see more of his wedding work on his website.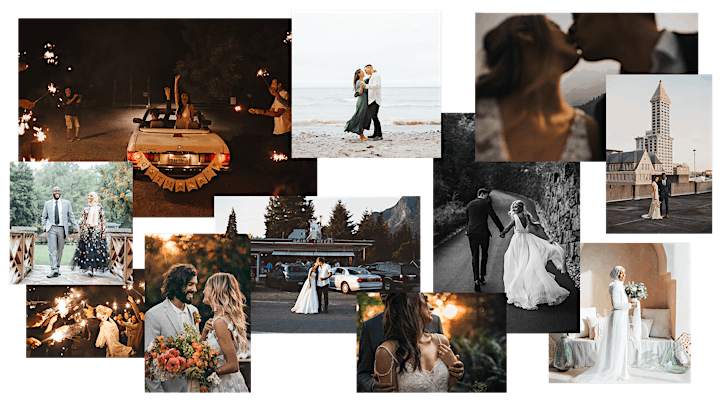 Who's this workshop for?
This workshop will be valuable for photographers of all backgrounds looking to grow their photography business, and shoot and create more in the wedding, portrait, and family spheres. Whether you're a photographer, videographer, digital creator, model, blogger, or just getting started on your creative journey, these workshops provide an opportunity to connect with others in the community and learn something at the same time.  
—
Any further details will continue to be updated and communicated as we get closer to the workshop. RSVP to secure your spot.
Organizer of Wedding Photography with Nicole Ashley, Halima Jama, & Jon Taylor Sweet