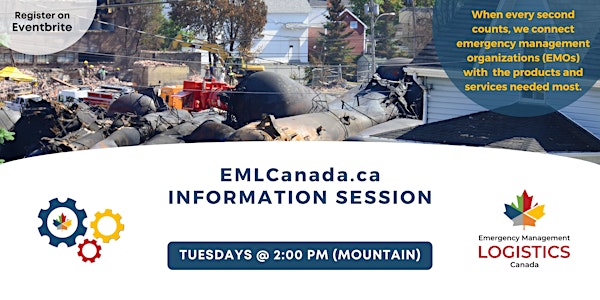 Weekly Information Session - Emergency Management Logistics Canada
Tuesdays at 2 pm MST - share about your situation, learn key aspects of the EMLCanada.ca Platform, and see examples of how it can help you.
About this event
Ready to sign up on the EMLCanada.ca Platform but just have a few questions?
We'll start the session with learning about you, your community, role or situation, and what problems you hope the platform will solve.
If you're an emergency management organization (EMO), we want you to respond with confidence.
If you're a business, we want to directly connect you with those who need your products and services.
We'll then cover the following topics:
How does the EMLCanada.ca Platform work?
Who is it for?
What does it cost?
How do you get started?
As the Platform continues to evolve and grow, the weekly information session gives you the most current and up-to-date information - delivered by the co-founders of EMLCanada, Pauline Mousseau and Scott Cameron.
Want to learn more? Check out our short, animated video.