The mission of MOVE is to Motivate Our Vibrational Energies through MOVEMENT! Tap into our weekly RELEASE, POWER-UP &/or ALIGN sessions.
About this event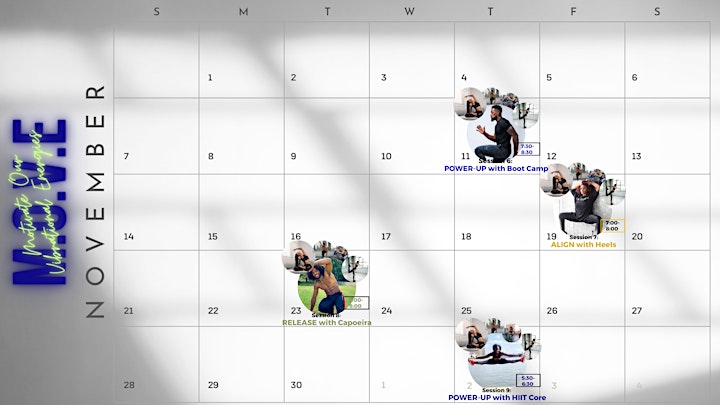 M.O.V.E Club states that you should consult your physician and receive clearance prior to participating in any of the MOVE Sessions offered throughout the school year.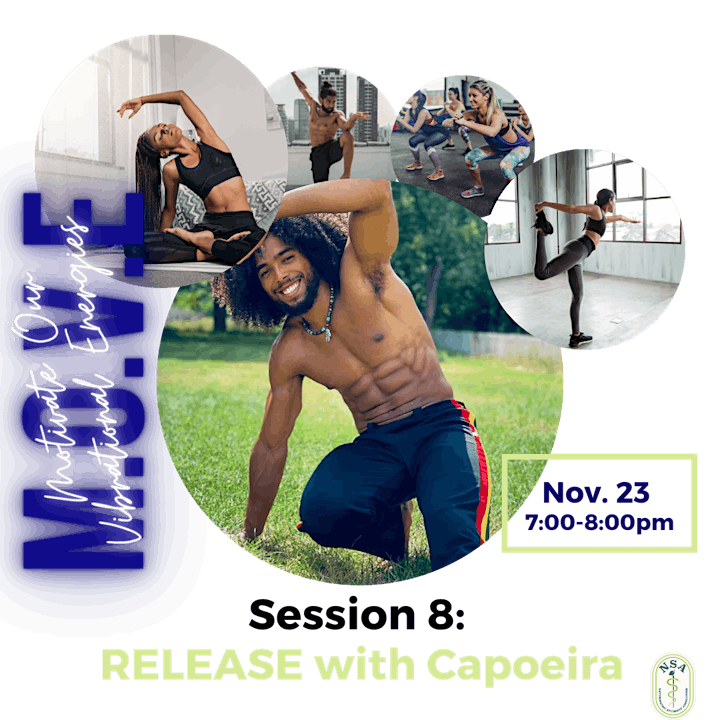 This week's virtual M.O.V.E Session is all about RELEASE. We're exploring the importance of movement and our roots as we're guided through a unique art form that combines elements of dance, acrobatics, and music with martial arts techniques curated to align and instill confidence within ourselves! This week's virtual movement practice is brought to you by Spence Crosby of Building Physiques! His session will introduce us to the art of Capoeira and some basic movements of this Brazilian martial art.
When: Tuesday, Nov. 23, 2021 @ 7:00pm
Where: Virtual M.O.V.E. Room
What You'll Need: All you'll need for our session is water, and a space to MOVE!
Access Info: Provided after checkout
Special Dicounted MOVE Deal Ends on Tuesday, Nov. 23 @5:00 pm !
Recording made available to M.O.V.E Club Members ONLY!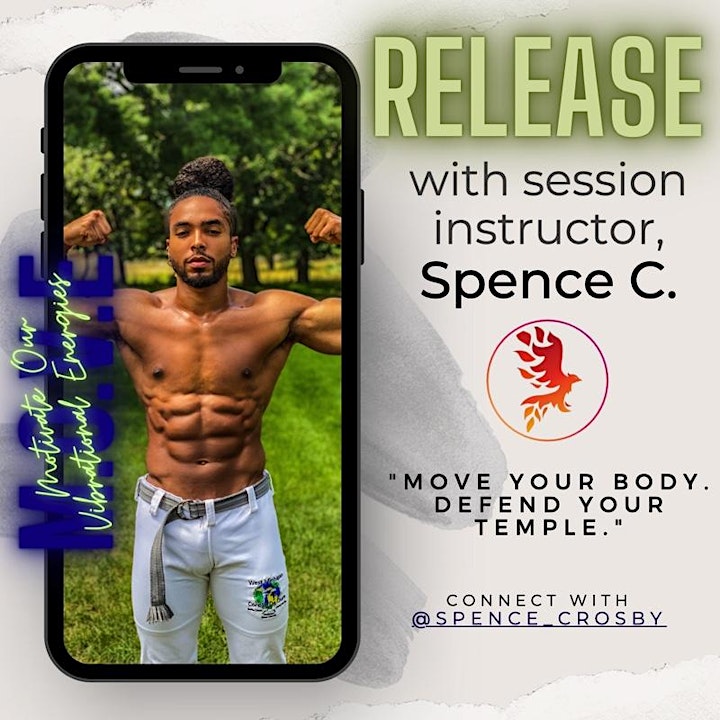 Meet Your Instructor, Spence C.
"There is no perfect physique, but what's unique and ideal to you." Building Physiques is meant to inspire and motivate people of the world into starting and continuing a healthy lifestyle. Check out their Youtube channel for access to various exercises, techniques, martial arts and overall fitness routines brought to you by Building Physiques creator, Spence Crosby. Subscribe for awesome content, on his YouTube page here: https://www.google.com/url?sa=t&rct=j&q=&esrc=s&source=web&cd=&ved=2ahUKEwioifmmma30AhWZpnIEHVJ8CpUQFnoECAIQAQ&url=https%3A%2F%2Fwww.youtube.com%2Fchannel%2FUCcaYQod4vFgQ1U9XSEJBJTQ&usg=AOvVaw0SeWzlsIIMTPQpWs7q9Ukd !
MOVE is an initiative that offers students, faculty and staff weekly opportunities to incorporate movement into their routines while cultivating community at CCNM. We'll explore various methods of movement to encourage you to determine what MOVES you.
Each weekly MOVE session will explore a different type of movement activity as we feature a variety of trainers, professionals and instructors who specialize in a range of styles. Each session will range from thirty (30) minutes to one (1) hour and will meet in the evening or morning (depending on the type of movement focus). Each session will be delivered virtually (until all students are allowed back on campus) and is FREE for members. All are welcome to participate and all are welcome to motivate our vibrational energies! Are you ready to MOVE?
COMPLETED: Session 7: ALIGN with Heels by Mariah Jasmine ! (11.19.21)
COMPLETED: Session 6: POWER-UP with Boot Camp! (11.11.21)
COMPLETED: Session 5: ALIGN with Group Hike! (10.31.21)
* FREE for all CCNM Students, Faculty & Staff (when using promo code provided)
COMPLETED: Session 4: ALIGN with Yoga by Monifé! (10.24.21)
* FREE for all CCNM Students, Faculty & Staff (when using promo code provided)
COMPLETED: Session 3 - POWER UP with Quick HIIT by Gorilla Power (10.21.21)
* FREE for all CCNM Students, Faculty & Staff (when using promo code provided)
RESCHEDULED- RELEASE with Capoeira by Spence --> (11.23.21)
COMPLETED: Session 1 - ALIGN with GoddessFit Activator (10.9.21)