Weekly Tuesday Night Trivia in Ancaster, Ontario
Join us every Tuesday night at Brassie Pub for a family friendly trivia with your host Donny Lovering
About this event
Join us every Tuesday night at Brassie Pub for a family friendly trivia with your host Donny Lovering.
THIS IS NOT A RESERVATION FOR TRIVIA TICKETS. PLEASE READ THE DETAILS BELOW. YOU MUST REGISTER YOUR TEAM BY CONTACTING BRASSIE PUB DIRECTLY.
Our game is super fun and exciting, albeit challenging, and is shown on Brassie Pub's many in-house TVs. We will test you on everything from music, to sports, to history, to the most random thing you can think of.
This game is FREE to play, and you will get the chance to walk away crowned a winner with $10 gift cards in your pocket (max 6 per team). One random team will also enjoy a $10 gift card to boot!
We are happy to provide contact-free trivia scoring! Just bring a fully charged smartphone or tablet for your team (you only need one) and don't forget to bring your brain.
Trivia starts at 7:59pm sharp.
TO REGISTER A TEAM: Brassie Pub will begin taking reservations by phone at 10:30am every Tuesday. 905.304.8935 (Call as early as you can as it is very busy!)
Check out Brassie Pub's menu here (menu may vary during COVID) https://www.brassiepub.com/menu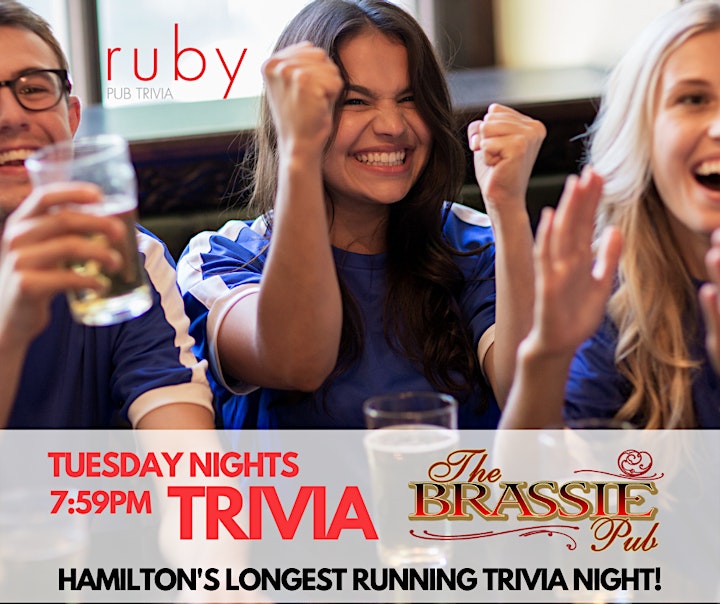 Organizer of Weekly Tuesday Night Trivia in Ancaster, Ontario