About this Event

HIGH PARK STEWARDS ONLINE RESOURCES
Even though we are not yet able to work in the park there are many things to do and learn. This page contains links to our previous presentations and many other online webinars, meetings and resources from other groups. ONLINE RESOURCES. Links are in blue in this message. Also see High Park Stewards At-Home info below.
Note: Our website is being transformed but the actual date of it going live is not yet available. If you go to it and it looks so much better you are in the right place.
OUR NEXT UPCOMING ONLINE PRESENTATION/MEETING
SUNDAY, JUNE 14, 10:30 am to 12:30 pm
REGISTER to receive a link to tickets with instructions for joining this Zoom Presentation (it is being recorded)
WEIRD AND WONDERFUL PLANTS
Heather Jerrard shows us interesting plant specimens, gardening tips and tricks and combinations for low maintenance outdoor spaces.
You're invited to attend this special, online presentation about interesting plant specimens, conversation starters in the garden, natives, edibles, and planting combinations for outdoor spaces combined with some tips and tricks for keeping a low-maintenance landscape.
Since the arrival of COVID-19 and the official state of emergency being announced, more people are asking about growing food, planting edibles, incorporating natives and dual-purpose plantings into their landscape. All of these topics and more will be discussed. Stay home; stay safe - let's grow together!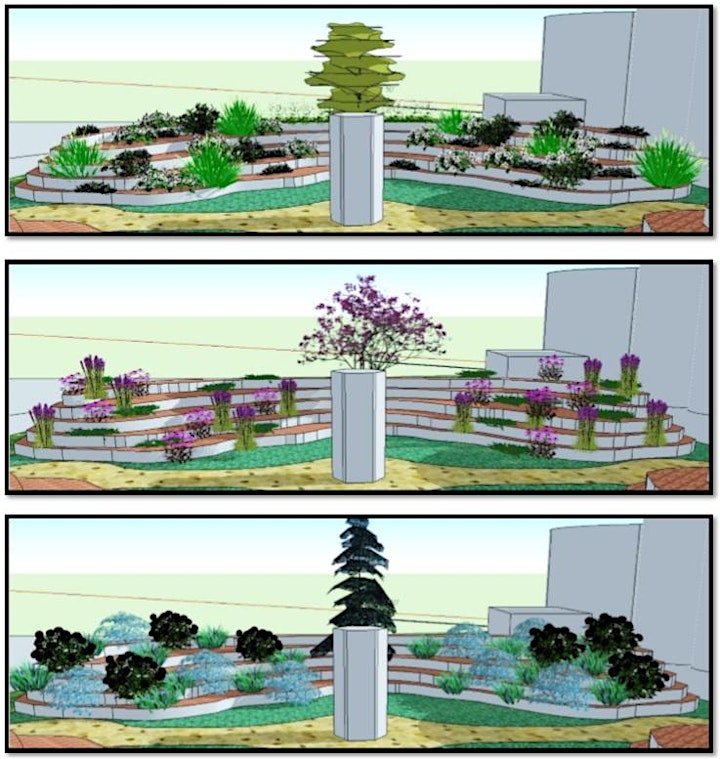 Heather Jerrard, is a landscape professional in London, Ontario. Having worked with Landscape Ontario in Milton, Rural Roots Landscaping in Lambeth and TLC Landscaping Design & Pools in London as well as graduating from the Landscape Design program at Fanshawe College - Heather is THRILLED to be bringing her expertise to an online audience for the first time. She speaks annually at the Lifestyle Home and Garden Show in London about all things to do with outdoor plants and has a local reputation for being a bit of a "plant nerd". She has a hobby Facebook Page called: the Garden Artist Ontario ) and has a slew of garden inspiration boards on Pinterest
A series of activities for Stewards from Jaclyn Scobie , our Urban Forestry Volunteer Coordinator
Hello High Park Stewards! Since field events will not be starting this month due to COVID-19, we're trying something new and different! Every two weeks, there will be a package made available on the High Park Nature website of at-home resources, projects, and activities for those who are interested in continuing to connect with and contribute to the natural environment during this time of physical distancing. Each package will include a project or activity that you can try at home, ecology-related resources, and nature-based self-care ideas. You can do as little or as much as you would like!
SINCE YOU ASKED ....
Question: If dog parks and community gardens are opening, why not stewardship activities?
Response: Thank you for connecting with staff to inquire about our volunteer programs and group events. Given the current situation, at this time all events are cancelled until the end of June. The City of Toronto is constantly evaluating the situation resulting from the COVID-19 infection. Staff continue to follow the advice of Public Health Officials as well as the Provincial regulations to safely implement the resumption of services where feasible.
Urban Forestry will continue to provide updates as required. Thank you for your patience and continued support during this time.
For further information regarding community allotment gardens please contact Raymond Thomson, Policy and Project Advisor with Parks, Forestry and Recreation's Parks Branch.
Crystal Rodrigues, Policy and Project Advisor – Urban Forestry , PFR City of Toronto
LINKS TO OTHER STEWARDSHIP AND NATURE PROGRAMS
HIGH PARK NATURE CENTRE ONLINE Our online program options offer opportunities to learn about nature from the comfort of your own home, connect to other nature lovers, and deepen your knowledge of the natural world. On-Line Activities
GREEN TORONTO Community Stewardship Program
2020 Spring Newsletter: This includes links to many activities in Toronto. and Nature in the City Facebook and Toronto Forestry Twitter
LINKS TO OTHER GROUPS ONLINE RESOURCES
IN THE ZONE GARDENS New Garden for Wildlife webinar series from WWF Canada.
Register for Webinars , Recordings of the series and Things to do at Home
PROJECT SWALLOWTAIL Connecting people with pollinator gardens.
A ground-up, non-profit project to make your neighbourhood beautiful by filling it with flowers and the pollinators that come to them. http://www.projectswallowtail.ca/
Enjoy the new season!