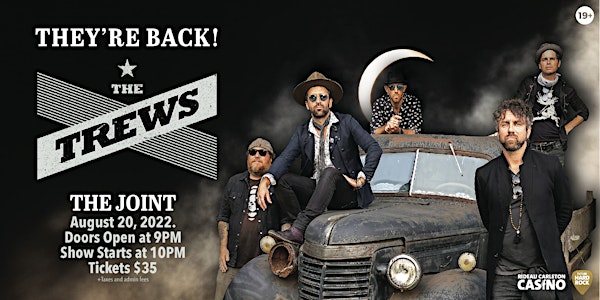 Welcome Back to The Trews! Performing August 20, 2022 at 10pm in The Joint
The Trews will be playing in The Joint at Rideau Carleton Casino on Saturday Aug 20! Tickets on Sale at 1pm
When and where
Location
Rideau Carleton Casino 4837 Albion Road Ottawa, ON K1X 1A3 Canada
Refund Policy
Contact the organizer to request a refund.
Eventbrite's fee is nonrefundable.
About this event
We are excited to announce that The Trews will be playing in The Joint at Rideau Carleton Casino on Saturday Aug 20! Tickets go on sale today at 1pm, check our website for details www.rideaucarletoncasino.com . Must be 19+. Event supported by Labatt and The Capital Fair.
Canadian rockers The Trews are returning to The Joint at Rideau Carleton Casino!
In the middle of their 'I Wanna Play' Tour, and with countless radio hits, ecstatic fans, and multiple albums, the group brings their trademark energy and musical style to The Joint this Saturday, Aug 20, supported by Labatt and The Capital Fair. The event caps off the final weekend of Capital Fair on location at Rideau Carleton Casino, and celebrates The Trews' latest album "Wander".
• Tickets on sale Friday, July 15 at 1pm, General Admission, Bar Service, Free Parking, 19+
The achievements of rock 'n' roll heavyweights The Trews are many and mighty, highlighted by multiple radio hits drawn from seven critically acclaimed studio albums plus several EPs, a pair of live records, and a retrospective. Among the most prolific, electrifying, and innovative bands on the planet, The Trews — singer/guitarist Colin MacDonald, guitarist John-Angus MacDonald, bassist Jack Syperek, drummer Chris Gormley, and keyboardist Jeff Heisholt — have shared stages with everyone from the Rolling Stones to Weezer, Bruce Springsteen to Rich Robinson, the latter collaboration culminating in three blazing tracks on the band's latest, The Wanderer, cut in Nashville with the onetime Black Crowes guitarist. Amid the global pandemic, which halted both the Nashville sessions and tour plans for 2018's epic Civilianaires album, The Trews completed The Wanderer at home in Canada with producers Derek Hoffman and Eric Ratz, emerging with their fiercest and most accomplished set of songs to date, and a heck of backstory to boot.
With Opening/Closing DJ so the party can continue after the show. The Joint at Rideau Carleton Casino is the place to be August 20, 2022.
Nous sommes heureux d'annoncer que les Trews joueront au Joint au casino Rideau Carleton le samedi 20 août! Les billets seront en vente aujourd'hui à 13 h, consultez notre site Web pour plus de détails www.rideaucarletoncasino.com. Doit être 19+. Événement soutenu par Labatt et The Capital Fair.
Les rockeurs canadiens The Trews retournent au Joint au Casino Rideau Carleton!
Au beau milieu de leur tournée « I Wanna Play », et avec d'innombrables succès à la radio, des fans enthousiastes et de multiples albums, le groupe apporte son énergie et son style musical à The Joint ce samedi 20 août, soutenu par Labatt et The Capital Fair. L'événement termine la dernière fin de semaine de la Foire de la capitale au Casino Rideau Carleton et célèbre le dernier album des Trews, « Wander ».
• Billets en vente le vendredi 15 juillet à 13 h, entrée générale, service au bar, stationnement gratuit, 19+
Les réalisations des poids lourds du rock « n » roll The Trews sont nombreuses et impressionnantes, mises en évidence par de multiples succès radiophoniques tirés de sept albums studio acclamés par la critique, plus plusieurs EPs, une paire de disques en direct et une rétrospective. Parmi les groupes les plus prolifiques, électrisants et novateurs de la planète, The Trews — le chanteur et guitariste Colin MacDonald, le guitariste John-Angus MacDonald, le bassiste Jack Syperek, le batteur Chris Gormley, et le claviériste Jeff Heisholt — ont partagé des scènes avec tout le monde, des Rolling Stones à Weezer, Bruce Springsteen à Rich Robinson, cette dernière collaboration aboutissant à trois morceaux The Wanderer, coupé à Nashville avec l'ancien guitariste des Black Crowes. Au milieu de la pandémie mondiale, qui a interrompu les séances de Nashville et les plans de tournée pour l'album épique Civilianaires de 2018, The Trews a terminé The Wanderer at home in Canada avec les producteurs Derek Hoffman et Eric Ratz, émergeant avec leurs chansons les plus féroces et les plus accomplies à ce jour, et un sacré historique en plus.
Avec Opening/Closing DJ pour que la fête puisse continuer après le spectacle. Le Joint au Casino Rideau Carleton est l'endroit idéal pour le 20 août 2022.