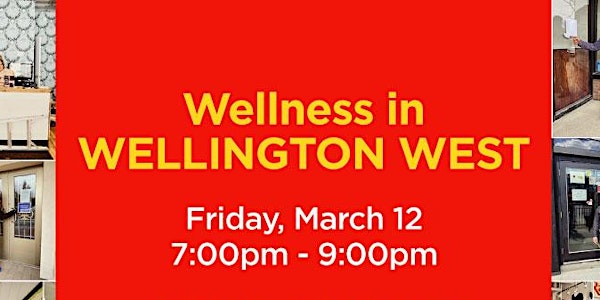 Wellness in Wellington West
A community event featuring interactive sessions with Wellington West businesses on different ways to promote YOUR health and wellness
About this event
Are you looking for different and creative ways to support your health and wellness as we continue to stay at home?
The Hintonburg Community Association and the Wellington Village Community Association with the support of the Wellington West Business Improvement Area have teamed up with five businesses in the neighbourhood who have some great ideas to share!
This event will feature five interactive sessions on five different aspects of wellness. No materials will be needed to participate an all are welcome to join. Feel free pop in with a snack or beverage for a workshop that interest you, or stay for the whole time!
7:00 - Welcoming Remarks
7:15 - Making our Home Work Environments More Ergonomic with Arc of Life Chiropractic
Whether you're working from home, doing virtual learning, or just on your devices more these days, Dr. Pauline So of Arc of Life Chiropractic will walk you through the best ways to use your tech devices without wrecking yourself and having more energy for the things you love!
7:30 - Spa at Home with terra20
Alexa Paz of terra20 will show you how you can bring all the elements of a spa right to your home!
7:50 - Healthy Snacks with Olive Oil with Aurelius Food Co.
Mike George of Aurelius Food Co. will chat about what makes olive oil a great addition to a healthy diet and will offer tips on how to use olive oil and balsamic to boost your recipes.
8:10 - Intermission, featuring a surprise guest!
8:20 - 8:20-Stretches and Techniques to Improve Posture with MapleCare Physiotherapy Clinic
Anike Vanagas, a physiotherapy resident at MapleCare Physiotherapy Clinic, will share ideas on how to improve your postural awareness and catch yourself when your posture changes . She will also provide some exercises and stretches to help correct your posture and answer your questions.
8:40 - Introduction to Mediation with PranaShanti Yoga Centre
Join Devinder Kaur of PranaShanti Yoga Centre for a mini introduction to the benefits of meditation, and learn a great meditation to help manage stress for a good night's sleep.
9:00 - Closing Remarks
Once registered, you will be e-mailed a link to the event closer to the date. We look forward to seeing you there!